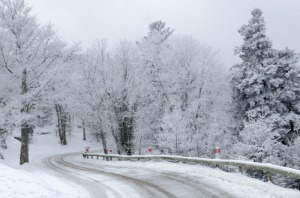 Are you planning on traveling this Christmas?  If so, you should make emergency plans in case of inclement weather derail your best laid out plan.  Winter storms can make traveling dangerous especially in areas that aren't used to getting bad weather (like Dallas and Fort Worth).  If you have to travel, you should make sure that you and your family dress as warm as possible in case you get stranded on the side of the road.  Of course, it is best to stay put in a safe place and avoid driving if at all possible when the weather is bad.  However, if you are traveling you never know if the weather is going to change in an instant.
As you are packing your suitcases, you should make sure to pack a few extra outfits in case you get stranded out of town.  If you have extra clothes, you won't have to scramble to find a place to do laundry or have to buy new clothes for your entire family.  Extra clothes can also come in handy if you are involved in an accident, slide off the road, or get stranded on the side of the road.  You can use the extra clothes to help stay warm.  In fact, this happened to my husband this weekend while he was out of town on business when we got a winter storm that created a huge mess for motorists.  He got lucky and is stuck where it is a bit warmer.  He is currently stuck in a hotel because his flight home was canceled.
While packing up the car, don't forget these essential items:
 Jumper cables – I usually keep a set of jumper cables in my car year round because you never know when your battery might need a jump start.  I have also been able to help other stranded motorists because I had a set of jumper cables in the trunk of my car.

Ice scrapper – An ice scrapper can come in handy if you have to leave your car sitting outside overnight.  This is another item that I typically leave in my car year round so that I don't have to worry about finding it and putting it back in my car during the winter.  On the news a few days ago, I saw people scrapping ice off their cars with credit cards, coins, and anything else that they could find in their car.  Keeping an ice scrapper in your car will prevent you from damaging your debit or credit card or idling your car for hours.
Tire Pressure Gauge – As temperatures drop, the tire pressure in your tires can quickly drop.  If you are planning on traveling, it is always a good idea to check your tire pressure before you leave the house.  Some of the newer cars have Tire Pressure Monitoring System that will automatically alert you if your tire pressure needs adjusting.  If you have to add air to your tires, having a tire pressure gauge will help you determine how much air that you need to add to your tires.  Driving with low tire pressure not only wastes fuel but it wears out your tires faster.
 First Aid Kit – An emergency first aid kit can come in handy if your child has a minor scrap or cut or have a medical emergency.  You can even purchase emergency first aid kits that come with flares, cones, and other items that might come in handy if you are stranded on the side of the road.
Cell Phone/Charger – Make sure that you pack your cell phone and charge in a handy place so that you can get to it in case of an emergency.  Having a cell phone will allow your to contact 911 or call for help if you are stranded on the side of the road.
4-Way Lug Wrench - If you have ever had to change a tire, you are probably aware that the tools that come with your car often make it very difficult to change a tire especially in the freezing cold.  If you have a 4-way lug wrench it makes changing a tire easier, even I was able to loosen the lug nuts on my car a few years ago with a 4-way lug wrench.
Blankets – Carry several blankets in your car when you are travelling during the winter time.  You can use the blankets for added warmth if you are stranded on the side of the road for an extended length of time.
If you are planning on traveling this winter, don't forget to have your car serviced at your local dealership or favorite auto repair shop.  If possible, ask for a full 30-point inspection of your vehicle to check for potential problems before they happen.
I hope that you have a safe and Happy Holidays if you plan on heading out of town to visit family and friends for Christmas or New Years.
To get weekly updates to Uplifting Families, please subscribe to my newsletter or join in the conversation with me on Twitter, Facebook, Pinterest, and G+.
Do you plan on traveling this year?