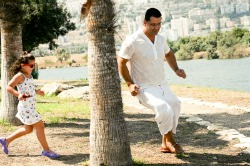 Do you and your family enjoy spending time outdoors during the evening hours?  When it is nice outside, I love letting my children play outside in the backyard while I watch them.  I always notice that as soon as I sit down outside it never fails the mosquitoes, other flying insects, or even ticks seem to sense that you are outside and decided to join you.  Bug bites can cause serious problems, especially, if the insect is carrying harmful diseases.  It is important that you protect you and your family from potentially harmful bug bites.
Disclosure:  This post is for informational purposes only and should never replace talking to your child's doctor about their bug bites or protecting them from getting bug bites.
Why Do Bug Bites Cause You To Itch and Swell?
Most people when they are bitten by pesky bugs they typically are left with a huge, red welt.  The huge, red welts often begin itching.  When a bug bite itches it usually leads to scratching, which can lead to infections and scaring.  Typically, when a bug bites you the bug injects poison or they leave their saliva behind.  The poison or saliva left behind causes your body to react and attempt to protect you from the foreign matter.  As your body begins reacting to the bug bite, your body triggers a response to the foreign material, such as mosquito saliva, and creates histamine causing the bite wound to itch.  Without itching, you would never know that you were even bitten.  If you realize or know that you have been bitten, you can watch for signs and symptoms of health related illnesses that bugs can transmit when they bite you.  If you notice that your bug bite is swollen, it means that you are allergic to the saliva or foreign material that the bug injected inside of you.
Can You Get Sick or Harmful Diseases From Bug Bites?
Insect bites not only cause a mild skin reactions but some people can get very ill.  Some insects also transmit and carry harmful diseases such as Lyme's Disease, Rocky Mountain Spotted Fever, West Nile Virus, Malaria, ect.  If you begin feeling ill or have flu-like symptoms, see a doctor immediately to rule out possible complications from potential diseases that insects can carry.  It is possible to get bitten by a bug that is carrying a harmful disease.  In fact, babies and elderly people are more at risk for getting bitten by bugs because they can't defend themselves.
Use Precautions to Protect You and Your Family from Pesky Bugs?
If you plan on spending any time outdoors with your family, you should take precautions to protect your family from pesky bug bites, especially, if you have an infant.    In fact, infants and children are more likely to get bitten by bugs because they typically play out in the yard while the adults are keeping an eye on them from the porch or they have protected themselves using bug spray or other types of [amazon_link id="B000BQK4YA" target="_blank" rel="nofollow"]mosquito repelling techniques[/amazon_link].