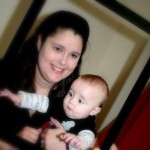 Hi! I am Christy.  I currently blogging full time while raising my children with my husband.  We reside in Texas and have lived here most of our lives.  Before meeting my wonderful husband, I was a single mom to my older two children for 8 years.  I have been married for 4 years to my husband, Joshua.  My older two children were from my previous marriage and my husband has taken them under his wings.  He loves them as if they were his own.  In May of 2011, we welcome our first child together.
My daughter was born deaf and wears a cochlear implant.  She was diagnosed at an early age with a bilateral hearing loss.  She received her cochlear implant at the age of 4 and has made remarkable progress with her hearing and speech.
My older son struggles with attention issues.  He has had issues with this since a very young age.  He used to make me want to pull my hair out when he was a toddler.  My son was always into everything and didn't sleep much.
My youngest is laid back.  We began teaching him baby sign language when he was almost a year old.  He will sign back a few words to us and it is so cute.  He started walking about a month ago and gets into things now, keeping all of us on our toes.
I struggle with chronic low back pain.  I was initially injured in a car accident in 98 and settled with the insurance company.  In 2009, I reinjured myself and decided that I should find out what is still causing me to have back pain.  Before I re-injured myself I would hurt off and on, and could take some motrin and things would be okay for a while.  In 09, I had an MRI and they noticed that I had an issue with my disc.  I finally was able to get confirmation in 2011, that I did in fact have a torn disc.  In May of 2012, I began to having issues doing my job at work.  I had a physical job and I had enough.  I decided that it wasn't fair to me or my family to come home everyday with low back pain.  I'll tell you more about my job situation at a later time.
I am passionate about helping other parents with their daily struggles with parenting.  I hope that you find my blog topics useful and helpful.  If you don't see something here, please let me know so that I can try to help you find a solution.
I am also passionate about helping mother's continue breastfeeding their baby even after they return to work.  A breast pump allows a mom to express enough breast milk to feed the baby while she is away.  I had to work full time with my youngest and used my breast pump for over a year.  Let me know if you have any questions, I will be happy to answer them for you.
You can find me on twitter and send me an @upliftingfam message or send me an email to Christy at upliftingfamilies.com
Christy
I am not a lactation consultant, psychiatrist, physiologist, or doctor.