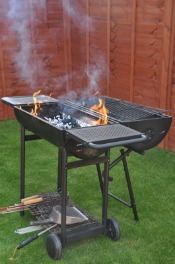 Do you enjoy grilling out during the summer months to avoid heating up your house while using your oven to cook meals for your family?   It is possible some families are able to grill out year round depending on where you live.  For most families grilling season typically begins when the temperatures get warmer outside or around Memorial Day.   Often times grilling season usually ends, in late September or later depending on where you live, when the temperatures start getting cooler outside.  Grilling makes it easy to invite family and friends over for get-togethers, parties, celebrations, and holidays.  Many families love to make some of their favorite meals on the grill because it is healthier and the grill adds a distinct flavor to your food.   So pull out your gas or charcoal barbecue grill and invite your family and friends over to catch up.
Disclosure:  This post is for informational purposes only.  All opinions reflected in this post are my own and may differ from your own opinions.
You Can Cook Healthy Recipes on the Barbecue Grill
Many people are discovering new ways to cook healthy meals on the barbecue grill including the use of fruits and vegetables in addition to your favorite meats.  There are tons of healthy recipes that are perfect for cooking on the grill.  You can also find recipes that are low fat and gives you the opportunity to cook healthy choices for you and your family.  As you are cooking the food on the barbecue grill you will notice that most of the grease drips out, so you will need to be careful so that you don't overcook meats.  Overcooking can lead to dried out and tough meat.
Grilling Adds a Distinct Taste to Your Food
Grilling your foods on the barbecue grill can add a distinct taste to your food, especially, if you are using charcoal and wood chips to help add flavor to your food.  Also, there are 100 of different types of marinades that you can use.  Marinades add flavor but be aware some marinades add additional calories and fat to your meal.  Look for healthier alternatives such as lime juice, vinegar, lemon juice, or rubs to add flavor to your meat without adding additional calories and fat.   If your marinade recipe uses oil, you can choose a healthier oil such as olive or canola oils.
15 Barbecue Safety Tips to Keep You and Your Family Safe During Grilling Season
Now that I have made you hungry, it is time to warn you about the potential dangers that grilling can pose.  It is always best to use caution and always promote safety to your children.  These 15 grilling safety tips are designed to help keep you and your family safe this summer, especially, if there are children around while you are busy making dinner on the barbecue grill.
Never allow children to play around a barbecue grill even if it isn't hot.
While using your barbecue grill always make sure that it is 10 feet away from any building structure including fences, woodpiles, children's toys, ect.  The heat or flames could cause the grill to ignite flammable items that is near the grill.
Never use a barbecue grill indoors, in a garage, or enclosed area.  All barbecue grills including gas grills put off dangerous levels of carbon monoxide which can lead to carbon monoxide poisoning.  Even a small does, carbon monoxide can be dangerous enough to potentially kill you.
Always keep a spray bottle filled with water near the barbecue grill and fire extinguisher handy.  You can use the spray bottle on flare ups, flames that are shooting up because of the fat drippings.  In the event that the grill catches on fire or something nearby, a fire extinguisher can help put out a small fire.  When grilling meats with high fat content, the meat will drip excessive amounts of fat on the coals or into the flames on a gas grill causing it to shoot up flames and sometimes the flames will even catch the meat on fire.
Temperatures in a charcoal barbecue grill can reach 1000 degrees Fahrenheit and coals shouldn't be disposed of until they are completely cooled off.  This can take up to 24 hours or more if the coals are left to smolder.  You can also put out the coals using a water hose.
Never dispose of coals where children or pets can get into the ashes.
Never use gasoline or kerosene to light charcoal.
Do use approved light fluids to help light the coals.
Never spray lighter fluid into the grill if you see flames.  The fire can easily travel up the bottle and cause the bottle to explode in your hand resulting in severe injuries and burns.
Always use flame retardant mitts for handling hot grill racks or grill tools.
Always use long handled grilling tools to prevent burns.
If you have a gas grill, it is important that you check the hoses for cracks or brittle hoses prior to using the grill.  Replace any hoses that are damaged.
Never attempt to replace valves on a grill yourself.  Always take it to a local hardware store for repair or replace your grill.
Never attempt to modify or puncture a propane tank.  Do exchange it if it isn't working properly or it is empty.
Always use proper grilling food safety tips when using your barbecue grill.  Never eat food that has been sitting out for more than 1 hour.  When it doubt toss it out.
To get weekly updates to Uplifting Families, please subscribe to my newsletter or join in the conversation with me on Twitter, Facebook, Pinterest, and G+.
Do you and your family enjoy grilling food on the barbecue grill?  What is your favorite meal to cook on the grill?