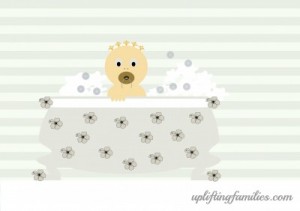 Bathing an infant isn't an easy task and can be an overwhelming experience.  Once a baby is wet and then you add soap to the equation, an infant becomes very slippery and are hard to hang on to.  Luckily, when you baby is smaller they don't have to be bathed every day.  In fact, your baby probably won't like bath time until they are a bit older.  Keep in mind that even though your tiny newborn can't splash you, be prepared to get wet.
Disclosure:  The opinions reflected in this post are my own and may differ from your own opinions.
Make Bath Time More Enjoyable for Your Baby
Be Prepared – Before you undress your baby and run the bath water.  Make sure that you have everything that you need to give your baby a bath first.  Having everything ready, will make bath time go so much smoother.  It is not necessary to have a baby bathtub for your newborn, in fact many parents will bath their baby in the kitchen sick.  A baby bathtub is designed specifically for a babies growing needs. To make bath time more enjoyable have the following items handy: baby soap, shampoo, lotion, hooded towel, baby bath tub, thermometer for checking water, diaper, and clothes.  Once you have everything together you can run your baby's bath water, make sure that you leave your baby in a secure spot in order to avoid any accidents or injuries.
Water Temperature – A baby's skin is very sensitive; especially, a newborn.  It is important that you ensure that the water isn't too hot before putting your baby into the bath tub.  Water that is too hot can easily burn your baby's skin.  If you don't have a bathtub thermometer, you can put some water on the inside of your wrist.  If the water feels too hot to you on the inside of you wrist, then it is way too hot for your baby.  The water should be warm to the touch.
Use Towels/Wash Clothes – If you are using a sink to bath your baby in, you can line the sink with towels or wash clothes.  This will help keep your baby stable and prevent them from slipping.  Also, a small towel or wash cloth can be used to drape over your baby, this he will help keep your baby warm.  With my last baby, I had a bath buddy that I used to help keep my baby warm while in the bath tub.  It is designed to cover their tummy, arms, and legs unlike a square wash cloth.
Water Level – A newborn doesn't need much water in the sink or baby bath tub in order to be bathed.  In fact, until they can sit up and hold their head up, you should only add 2-3 inches of water into their bath tub.  Instead, scoop the water onto your baby using a wash cloth or small cup.
Holding Your Baby While Bathing – Holding a slippery baby isn't easy; especially, when your baby can't hold their head up or sit up alone. I always placed my baby in the baby bath tub and when I had to soap him, I would wrap my arm around him and place my hand under his shoulder that was farthest away from my body.  Then I would hold him up while, I soaped his back and rinsed him off.   I personally used a baby bathtub, but if you are using the sink or a big bath tub then you would need to constantly hang on to your baby using the technique I used above.
To get weekly updates to Uplifting Families, please subscribe to my newsletter or join in the conversation with me on Twitter, Facebook, Pinterest, and G+.
Did you use an infant bathtub for your newborn?