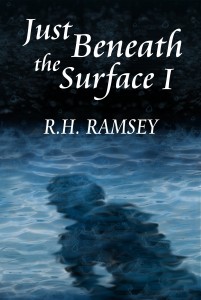 I just finished reading "Just Beneath the Surface" by R. H. Ramsey.  This book is rated for a mature audience and shouldn't be read by someone under the age of 18 due to the graphic nature of this book.  This book was full of twists and turns and there was never a dull moment. This book is filled with suspense, drama, and action that will leave you wanting to read more.
As the story begins, Kendell and Michael had their fair share of relationship problems.  Kendell felt that Michael was immature and never valued her opinion.  They began their relationship at a very young age and never married.  After 14 years and two children, Kendell finds herself upset that Michael refuses to marry her.  Michael is a mama's boy and wants someone to take care of him.  He feels that Kendell just doesn't live up to being wife material.  One day they decided to tell the children that they are splitting up.  The kids don't take it very well and are hopeful that this situation is just temporary.  As the days pass, the kids begin feeling as if their parents are never going to get back together.
Kendell finds herself feeling like a teenager again.  She begins hanging out at the bar, calling men, and often leaves the kids at home to take care of themselves.  Then she meets Spencer, who seems like a great guy on the surface, but he will take a turn for the worse after Kendell marries him.  The kids aren't very fond of Spencer and when they are over at this house visiting their mother he rarely lets Kendell spend much time with them.  In fact, the abuse began shortly after they got married and Kendell felt that she never did anything right to please her husband.  Spencer begins leaving bruises, cuts, and other injuries on Kendell and expects her to go on as if they never happened.  The abuse seems to get more and more intense each time it happens; however, she feels like she is stuck in the relationship because she loves him.  She finds herself thinking that each time he abuses her that he will change and she always accepts his apology and will do anything to cover up what her husband is doing to her.   She can't do anything and walks on eggs shells doing her best not to upset Spencer.  Spencer always makes promises that he can't seem to keep and the abuse continues.
Michael was always telling Kendell that she nagged him and treated him like a kid.  He always felt that she was too whiny or that she was always acting weird.  After they split up, Michael found himself living at his parents house until Kendell got married to Spencer.  After Kendell got married, Michael moved into the family home with the children.  He began spending more and more time with Jules, leaving Diamond Isolated and alone.  One day Kendell met up with Michael to get the kids for her weekend visitation schedule and he notices that she has bruises on her body.  He asked her if Spencer did this and she would always come up with an excuse in order to protect her husband from Michael.
Diamond is a typical rebellious teenager who decides to act out in an unhealthy way after her parents split up.  In fact, she found herself sneaking around seeing older men to have sexual relationships with, including her best friends mom's ex-boyfriend and a teacher assistant.  Most of her encounters were one time occasions; except, for Bobby the teachers assistant who wanted a relationship with Diamond.  Bobby begins smothering Diamond and gets very possessive of her to the point that she gets very scared.  Bobby would follow her and call her cell phone multiple times a day if she refused to see that day.  She wanted away from him and tried ending their relationship; however, Bobby wouldn't take no for an answer.  One afternoon, Bobby followed her into the bathroom at a local burger joint and assaulted her.  The police are called and eventually Michael hears about the altercation and everything else that Diamond has been doing for the last few years, including her promiscuous behavior, failing grades, sneaking out of the house, and she will confess to her parents that she had instigated most of the sexual relationships that she had.
Jules is Diamond's younger brother and he is a typical boy who wants to attempt to protect his sister from harm.  He is always yelling or fighting with her and getting into her business.  Jules deals with his parents breakup differently than his older sister but his anger and frustrations still come out, mostly as yelling.
I want to thank Rhonda for giving me the opportunity to review her book.  While this is a fiction story, domestic abuse happens in everyday relationships including teens who are just beginning to date.  If you find yourself in a relationship, described in this book I want you to remember that this isn't your fault and there is help available to you.
About the Author:  R. H. Ramsey is a married and has two children.  She was a military wife for 8 years and found herself moving from Texas, to New Jersey, to the midwest.  Rhonda has two self published titles and several completed novels.  For more information or to connect with R.H. Ramsey please visit  RandomRamsey Blog, Facebook, and Twitter.
Disclosure: I was given a free e-book of Just Beneath the Surface in exchange for this review.  The opinions reflected in this review are my own and may differ from your own opinions of the book.
To get weekly updates to Uplifting Families, please subscribe to my newsletter or join in the conversation with me on Twitter, Facebook, Pinterest, and G+.