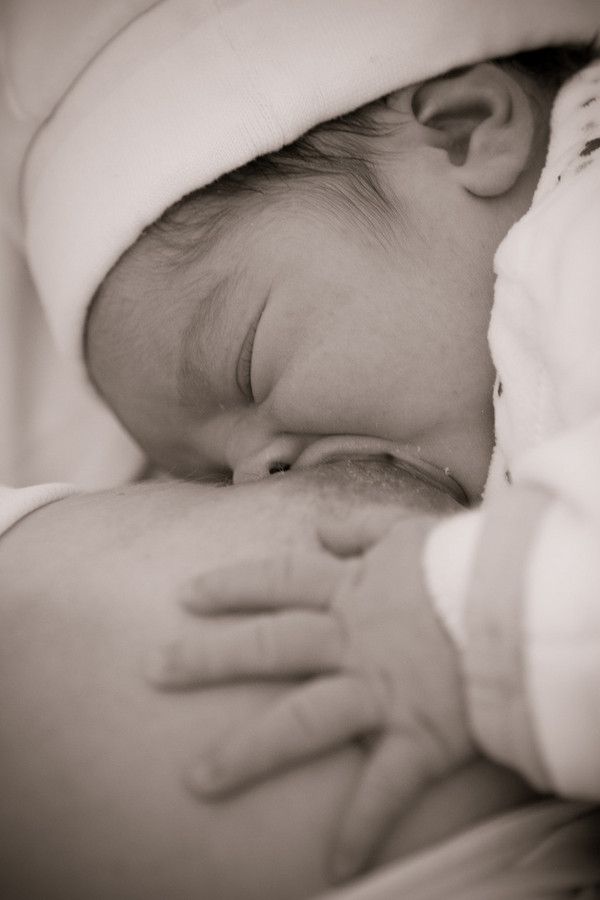 Breastfeeding your baby might be challenging especially if your a new mom who has never been exposed to breastfeeding before.  The hardest part to breastfeeding is getting your baby to latch on to the breast properly.  If your baby doesn't latch on to the breast properly it can cause your nipples to get very sore and your baby won't be able to adequately get milk from your breast.  Proper latching will increase your chances of success and make breastfeeding more enjoyable for both mom and baby.
Disclosure:  This post is for informational purposes only.  I am not a lactation consultant or a doctor. 
Proper Latching Techniques
To ensure that your baby is latching on properly, follow these steps:
Hold baby near your breast and when the baby opens his or her mouth place your nipple into the back of their mouth.
As your baby sucks, it will release milk from the sinus cavities in the breast that lie behind the nipple.  Your baby's gums will gently compress the sinus cavities during the sucking motion.
Your baby's tongue should be visible on the bottom side of the nipple.  And if you watch your baby you will see that the tongue moves back and forth slightly while they are sucking.  A baby's lips should be turned outward similar to a fish face.
The baby should be sucking on part of the areola and not just the nipple.  If you notice that your baby is only sucking on the nipple, unlatch and start over.
If you are struggling with latching techniques while you are still in the hospital, contact your nurse for help.  Some hospitals even have lactation consultants that can assist you with breastfeeding.  After you are discharged, if you are experiencing latching issues contact a lactation consultant or your local La Leche League.
Positions for Feeding Your Baby
Positioning your baby properly will help allow your baby to properly latch on the breast.  Your baby will spend 15 to 20 minutes at the breast eating, so it is important that mom is comfortable and relaxed.  There are several ways to position your baby at the breast and its best to experiment to determine which position is most comfortable for you and your baby.
Cradle hold – This is probably the easiest and most natural position that is used for breastfeeding.  Hold your baby and support the babies head in the crease of your arm closest to your breast.  This position is great for skin to skin contact as your abdomen touch.   The only downfall to this nursing position, it is often hard to control or watch how your baby is latching on.  If you struggle with latching issues, try this position again once the latching issues have been resolved.
Cross-Cradle hold – This position is similar to the cradle hold; however, it gives mother's more control over baby's latch.  You place your hand on the back of your baby's head, this will allow you to support their neck.  The baby will lay across your arm and your baby's bottom will gently rest in the crevice of your arm.
Football hold – This position allows you to hold your baby to the side of your body.  You will hold the back of your baby's head for support and tuck their legs behind you.  Use a pillow, boppy or my breast friend to help support your arm.  This position allows mom's the greatest control over seeing the breast and is perfect for mom's who have had a c-section.
Side-laying – This is position is great for those middle of the night feedings.  Lay side ways and support your head using a pillow.  Then turn your baby on his or her side and slide their feet toward your body.  Guide your baby towards the best.  Remember, the baby needs to latch on properly.  If you have trouble getting your baby to latch properly, try getting your baby to open their mouth wide and gently pull their shoulders towards you.  You can support your baby with your arm or a towel so that baby is even with your breast.
To get weekly updates to Uplifting Families, please subscribe to my newsletter or join in the conversation with me on Twitter, Facebook, Pinterest, and G+.
What was your favorite position to nurse your baby?