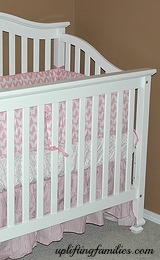 Many parents search for the perfect bedding set for their new arrival and spend countless hours decorating the baby's nursery. Crib sets are a great way to get your baby matching sheets, blankets, bumper pads, and some sets offer other accessories that match the bedding set.  Most bedding sets come with regular crib bumpers and these shouldn't be used in a newborns crib.  They make breathable crib bumpers in colors that match the bedding set that you pick out for your baby.  Breathable crib bumpers are safer for young infants and prevent your baby from potentially suffocating themselves if they maneuver themselves into the bumper.  Regular bumpers can be used for an older baby or toddler to prevent them from getting their limbs caught in the crib slats.
Crib Bedding Sets for Boys
Crib Bedding Sets for Girls
Gender Neutral Crib Bedding Sets
Did you buy a crib bedding set for your newborn?
Comments
comments