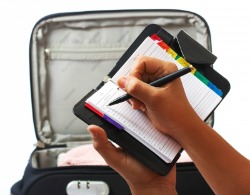 Dad if you plan on staying at the hospital after your baby is born, you will need to pack a bag for your stay so that you don't have to run back and forth from the hospital.  Of course, if you forget anything you have the luxury of going back home and grabbing items that you forgot (including items that your wife or significant other might have forgotten).  The laboring process is usually slow so dad make sure that you have something to do while you wait, if not you will find out quickly how boring it is to sit in a room at the hospital.
Disclosure:  This post is for informational purposes only and I have shared a general list of items that most dad's take to the hospital.
In fact, dad you should begin packing a bag around 30 to 32 weeks of your spouse's or significant other's pregnancy so that you are prepared in case she goes into labor and you need to race her to the hospital, especially during the middle of the night.  The last thing you want to be doing while she is in labor is running around the house collecting items to put into your hospital bag.  You are also more likely to forget something when you are rushed and are focused on the baby's impending birth.