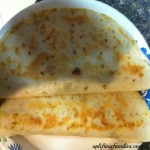 I wanted to share an easy recipe that your family will enjoy.  I love quick and easy meals that I can prepare during the week.  You will need a few ingredients to make these grilled fajita chicken quesadillas.  This is a quick and easy meal for the entire family.  You can have dinner on the table and ready within 15 minutes.
Ingredients Needed for 8 Servings
1 lb bag of John Soules Fajita Chicken
8 soft taco size tortillas
2 cups of Colby and Monterrey Jack shredded cheese
small amount of oil (i use vegetable)
onion (if desired)
butter (for onions)
Directions for Grilling Onions to Put Inside Quesadillas
I personally like to grill my onions before putting them on my quesadillas.  Chop onion up into small pieces and put in a small frying pan.  Add about 1-2 tablespoons of butter to the frying pan.  Next put the onions in the frying pan.  Place the frying pan on the stove and turn on the burner to medium-high.  Stir the onions occasionally.  Turn off the heat once the onions are caramelized, they will look a dark yellowish color.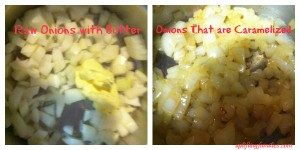 Directions for Cooking the John Soules Fajita Chicken
Get a large frying pan and open the bag of fajita chicken.  Pour the chicken into the frying pan.  Place the frying pan on the burner and turn the burner on medium-high.  Stir the chicken frequently.  The chicken comes pre-cooked and is sometimes frozen so you have to just heat the chicken.  Overheating the chicken will cause it to dry out, so keep an eye on it.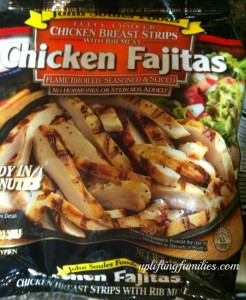 Putting the Quesadilla's Together
I personally use a paper plate to put the quesadillas together so that I don't make a huge mess on the kitchen counter with cheese and oil.  Take a tortilla and put a small amount of chicken on it.  Then add some cheese and grilled onions if desired.  Fold the tortilla in half.  Put a thin layer of vegetable oil on the outside of the tortilla.  I use a griddle so that I can make several at once but you can use a large frying pan instead.  Turn the heat up on medium-high.  Place the tortilla that has the oil on it, face down on the griddle or in the pan.  Coat the other side of the tortilla with a thin coat of oil.  Flip the quesadillas once they are golden brown using a fork.  They will be very hot.  Repeat until you have made as many quesadillas that you want.  Top with your favorite toppings such as: sour cream, hot sauce, jalapenos, nacho cheese, ect.  Enjoy!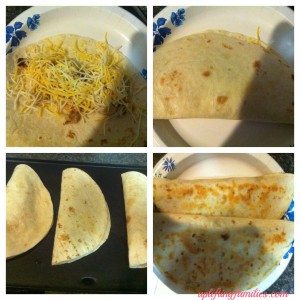 Products That I Use When I Make Quesadillas
What is your favorite Mexican side dish?