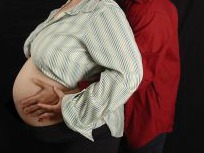 When I was pregnant with my son, I had trouble finding cute maternity clothes.  Most of the stores that I went to only had a very small section of maternity clothes.  In fact, most stores don't carry plus sized maternity clothes unless you go to a specialty maternity store.  Plus sized mom's shouldn't have to settle for clothes that aren't comfortable or don't fit her growing belly properly.  I wanted to help mom's find cute plus sized maternity clothes without going from store to store and becoming disappointed because they can't find maternity clothes in their size.  I randomly selected the items displayed below and if you don't see something you like or an item in your size you can click on the link to find something in your size that appeals to your style.
Disclosure:  I do make a small commission from any items purchased.
Plus Sized Short Sleeved Maternity Tops
Mix and match these cute short sleeved maternity tops with your favorite work pants or jeans.  These selected tops are reasonably priced.  Depending on the top that you choose some are available in other colors, to see additional colors or sizes you will have to click on the link below.
Plus Sized Long Sleeved Maternity Tops
Find these cute long sleeved maternity tops for those days when it is colder outside.  Some tops come in a variety of sizes and colors depending on the product that you like.
Plus Sized Maternity Jeans
As your belly grows, it is important that your pants fit and don't cut into your belly.  These are comfortable jeans and can be found in a variety of styles, sizes, and colors depending on the style of jeans that you like.  I personally loved my maternity jeans when I was pregnant.  Maternity jeans are made to expand and grow with your growing belly.
Plus Sized Dress Pants
Finding cute dressy pants to accommodate your growing belly doesn't have to be difficult.  These maternity dress pants come in a variety of styles, fashion, colors, and sizes depending on the product that you choose.  These pants are comfortable and are made to stretch as your belly grows.
What is your favorite maternity item?
Powered by

Sidelines
Comments
comments