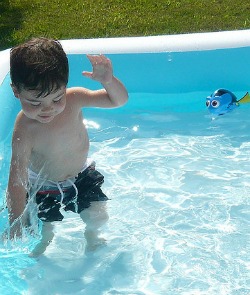 Guest Post and Photo was provided by Simon Bowers.
The sunshine is apparently coming back to make a final appearance before leaving us for the Autumn, so we still have time to get outside and play in the garden or even grab a flight and go on holiday. But what can you do to stop the children from becoming too bored but also keeping them cool in hot weather? I've put together a little list of great games you can play in the swimming pool, any size of water can be good for some of these, hope you have fun!
Disclosure:  All children should be properly supervised when they are swimming or playing in a wadding pool.  Never allow your child to swim alone, it only takes 6 inches of water for a young child to possibly drown.
 Underwater Races
Whether your children prefer pretending to be sharks, mermaids, submarines or sea monsters, the ever popular game remains the same. All players line up along one side of the pool, take a deep breath, and see who can get the furthest before needing to surface for air. This can also be a great way of teaching water confidence.