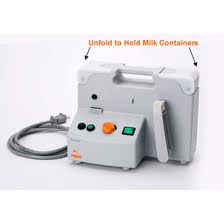 The Hygeia EnDeare was designed to be an economical breast pump for mother's who want a hospital grade breast pump.  The EnDeare is used in many hospitals all over the country.  This breast pump uses piston-driven technology, making it durable for frequent pumping sessions.  Hospital grade breast pumps are ideal for mother's who have a child that has been hospitalized for an extended period of time, such as a preemie, mother's who need to establish their milk supply, or frequent-long term pumping.  Hospital grade breast pumps are more durable and are made to withstand frequent pumping sessions.
Disclosure:  All opinions reflected in this post are my own.  I didn't receive any compensation for this post.
Lightest Hospital Grade Breast Pump
Most hospital grade breast pumps are heavier and aren't very portable.  However, the Hygeia EnDeare is the lightest hospital grade breast pump currently on the market.  It weighs roughly 9.5 pounds, compared to the Medela Symphony that weighs 13 pounds.
Hygeia EnDeare Is a Multi-User Breast Pump
All of the Hygeia breast pumps are listed as multi-user pump.  This gives mother's the option to share the breast pump safely and securely with family or friends.  Employers can also purchase this breast pump for their lactation room, giving mother's a way to pump breast milk without hauling a breast pump to work each day.  Each mother would still be responsible for purchasing their own personal accessory kit.  The personal accessory kit contains the breast flanges, tubing, storage bottles, and caps. These parts come into contact with breast milk and shouldn't be shared among mothers.
Internal Rechargeable Battery
The Hygeia EnDeare comes with a internal rechargeable battery pack, giving mother's the option to  pump anywhere.  Mom's don't have to be tied down or search for an electrical outlet when they are ready to use the breast pump.  Hygeia is committed to helping make the Earth A Greener place to live, so they use rechargeable batteries instead of relying on everyday batteries that most of the low-quality breast pumps use.
C.A.R.E Button
When you are expressing breast milk, do you ever wish that you could hear those sweet baby sounds that you hear when you are breastfeeding?  Well the Hygiea EnJoye can record those sweet baby sounds, so that you can play them back while you are pumping.  Hygeia developed the C.A.R.E (Customized Audio Recording Experience) button to enhance your pumping experience.
Lacks a Bag/Carrying Case
The only downfall to using a hospital grade breast pump, it doesn't come with a fancy bag or carrying case.  The case would have to be purchased separately, adding to the cost of the breast pump.  A case would be the best way to adequately protect your breast pump from bumps and elements such as rain, moisture, dust, ect.
Custom Speed and Pressure Controls
This breast pump helps mother's pump more milk by simulating the sucking rhythms that your baby does when he or she is eating.  You can easily adjust the breast pump to mimic your baby's sucking rhythm by adjusting the speed and pressure controls.  You also can adjust the speed and pressure so that pumping is comfortable.
Eliminate Possible Internal Contamination
The Hygeia EnDeare has an bacteriostatic filter that eliminates the risk of internal contamination. The filter keeps bacteria and viruses from finding its way to the motor. The EnDeare also has a pest-resistant screen that keeps pests from entering the motor, reducing the amount of contaminates from entering your breast milk.  So mother's don't have to worry about their breast milk being contaminated.  There is an hour meter that allows you to track the breast pumps performance.  When you begin to notice that the performance of your breast pump is decreasing, you will need to change the bacteriostatic filter.
What is Included with your purchase:
Breast pump
NiMH battery pack
A/C adapter
Instruction Manual
Personal Accessory Pack
To get weekly updates to Uplifting Families, please subscribe to my newsletter or join in the conversation with me on Twitter, Facebook, Pinterest, and G+.