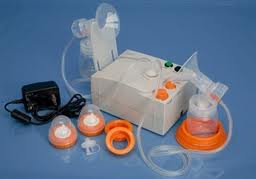 The Hygeia EnJoye EPS breast pump is an eco-friendly breast pump.  Hygeia is offers mothers a breast pump that is a professional-grade quality without the expensive price tag.  The EPS model is the cheapest electric breast pump offered by Hygeia.  This brand of breast pumps are registered as multi-user and can be shared.
Disclosure:  The opinions reflected in this post are my own.  I didn't receive compensation for this post.
Hygeia Commits to Their "Go Green Solution"
Hygeia is committed to help the planet with their "Go Green Solution" and designed their breast pumps with a closed system motor.  This means that there will be less breast pumps sent to the local landfills.  The EnJoye EPS breast pump can be shared with a family member or friend as long as they buy their own breast pump accessories.
Lacks Battery Pack
The Hygeia EnJoye EPS doesn't have a battery pack option and is dependent on electricity.  This may limit where a mother can use her breast pump, as she would have to find a private place to pump that has an electrical outlet.  If you planning on using this breast pump at work, make sure that there is a electrical outlet in the room/place that your company has designated you to use for expressing breast milk.  This product can't be returned once it is opened.
Hygeia C.A.R.E
The EnJoye EPS has a one of a kind feature that was created to enhance the pumping experience, especially for mother's who are pumping breast milk at work or away from their baby.  The C.A.R.E system stands for Customized Audio Recording Experience.  This system allows a mother to record her baby or another sound that helps her to stimulate milk flow.
Barrier Filter
The Hygeia EnJoye EPS has a barrier filter that protects the breast pump from cross-contamination.  The filter allows this breast pump to be registered as a multi-user breast pump.  The filter only needs to be changed if it gets wet or if you notice a sudden decrease in the suction on your breast pump.
Warranty
This breast pump comes with a three year warranty.  Sharing your breast pump with other people doesn't void the warranty.
Recycling Program
Hygenia is committed to keeping breast pumps out of the landfill.  After you are finished using your breast pump, you can contact them for recycling instructions.
What is included with your breast pump purchase:
Breast Pump
2- 27mm Flanges
Set of Tubing
2 – 4oz Bottles
2 – Duckbill Valves
2 – Storage Caps
2 – Feeder Cups
2 – Rings
2 – Narrow Mouth Adapters
2 – Rings Covers
1 – Container Holder
2 – Pump Filters
AC adapter
Instruction Manual
To get weekly updates to Uplifting Families, please subscribe to my newsletter or join in the conversation with me on Twitter, Facebook, Pinterest, and G+.