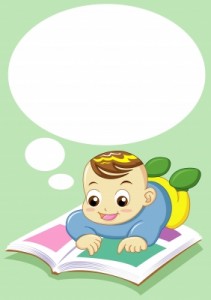 Babies begin to hear your voice around 16 after they are conceived.  So they begin learning how to listen while inside of the womb.  As, your babies hearing develops they will begin hearing other sounds besides their mommy's voice and can even recognize those sounds once he or she is born.  A baby is similar to a sponge and takes in everything that he or she hears or sees, even before they are born.  If you don't want your child to exposed to certain language or behaviors, you should begin to change your ways before you become pregnant or during the early stages of your pregnancy.
Disclosure:  The opinions reflected in this post are my own and may differ from your opinions.
When Should I Begin Reading to My Baby?
Reading to your baby is very important and it helps develop their communication skills at an early age.  In fact, you can begin reading to your baby while they are still inside the womb.  While inside the womb, you baby won't understand what you are saying but it helps them develop their listening skills.
Incorporate Reading Into Your Infants's Nightly Routine
Once your baby is born, you can incorporate reading into your child's bed time routine.  An infant, may not understand what you are saying but they quickly learn the languages rhythm.  They also enjoy hearing repetitive sounds and words, so it is important to find books that have repetitive words.  A baby has a short attention span so it is important that you keep your baby interested, you can do this by varying your pitch or changing your voice.
Find Books That Catch Your Child's Attention to Keep Them Interested in Reading
As your baby becomes more interested in looking at books, you will find that they like brightly colored books that have shapes, animals, numbers, ect.  These types of books are great for introducing new vocabulary words to your child's memory bank.  Remember you don't have to read your child the entire book to be beneficial if your child is restless and shows signs that he or she isn't interested.  You want your child to develop a love for reading, love the connection that reading develops, and enjoy listening to your voice.
Benefits to Introducing Reading at an Early Age
Reading helps develop your child's receptive language skills that are an important part of learning how to communicate.  Also, reading helps increase their vocabulary.  Many kids love the routine, interaction, cuddles, and attention that they receive while they are being read too.  Toddlers love interactive story time.  So it is important to find ways to involve them during story time.  You can ask them questions about pictures in the book or find a way to relate the story to real life scenarios.  Also, you can ask your child to point out objects in the book that they are familiar with such as where is the dog or ball?
To get weekly updates to Uplifting Families, please subscribe to my newsletter or join in the conversation with me on Twitter, Facebook, Pinterest, and G+.
Do you enjoy reading to your child?