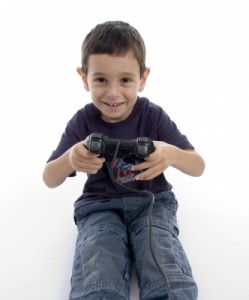 I did an experiment once when I was in college. Well, it was both an experiment and an attempt to better myself by limiting the type of media that I watched and listened to.  For two entire months I did not watch a single TV show or movie.  I avoided media such as video games and even stayed away from the internet except when required for my job or my studies.  The only radio I allowed myself to listen to was my favorite Christian radio station.
Why was I doing this?  Well first of all I was a poor college student and thought it would be a good way to avoid going broke since I wouldn't be needing cable TV and wouldn't be buying/renting movies for a while.  But the second reason was I wanted to see if it would change the way that I think.  I had heard many times that the media that we take in every day is directly related to how we think and act on a daily basis.
I know it is not likely that someone would go on a murder rampage after watching a horror film.  However, I wondered would it make someone generally more tense or angry?  My experiment was not very scientific at all.  I didn't have a system for measuring results.  I just wanted to see if the world seemed like a different place when I wasn't constantly subjected to violent, sexual and immoral content that is often found on TV, radio and the internet.
It was difficult at first because I would get invited to go watch a movie at a friend's house or to go play video games but I stuck with it and a few weeks in I began to notice several changes.  First of all I obviously had a lot more time on my hands and was having much less difficulty keeping up with schoolwork.  The second thing I noticed was a general happiness and positive attitude that I had not really had before.  I noticed that it was far easier to not curse or say things I knew I would regret.  I also noticed I didn't get angry as easily and didn't have as many lustful thoughts (and that's saying something for a college student).  Yes, I eventually went back to my old ways and I do watch television these days (although I am often more careful about what I watch).
However, this did teach me something about the way the human mind works.  We tend to adapt to what we surround ourselves with.  We often try subconsciously to fit ourselves into the media that we take into our brains.  Without even knowing it, watching a lot of violent or action packed television may change my mindset entirely.  It may make me think more assertively and make me less compassionate towards others.  This is obviously just one of many examples.
When I got married and had kids I have remembered this experiment.  I know better than to completely shield my kids from all media because I know they are going to be exposed to things outside of my household that are out of my control and because I know that they need a firm grip on what things are like in the real world.  I do, however, keep a close eye on how much time they spend immersed in video games or other media.  I also make sure that they get plenty of positive reinforcement and take in media that has a positive and uplifting message.  By limiting the time that they spend watching television and playing video games and spending more time with them myself I hope that I'm ensuring that they will grow to be responsible adults with a positive outlook on life.
What about you?  Do you think the media that we watch, listen to, and interact with changes the way we think?  What kind of boundaries do you have for your children in this area?
2 Responses to "How Does Media Affect the Way Our Children Think?"