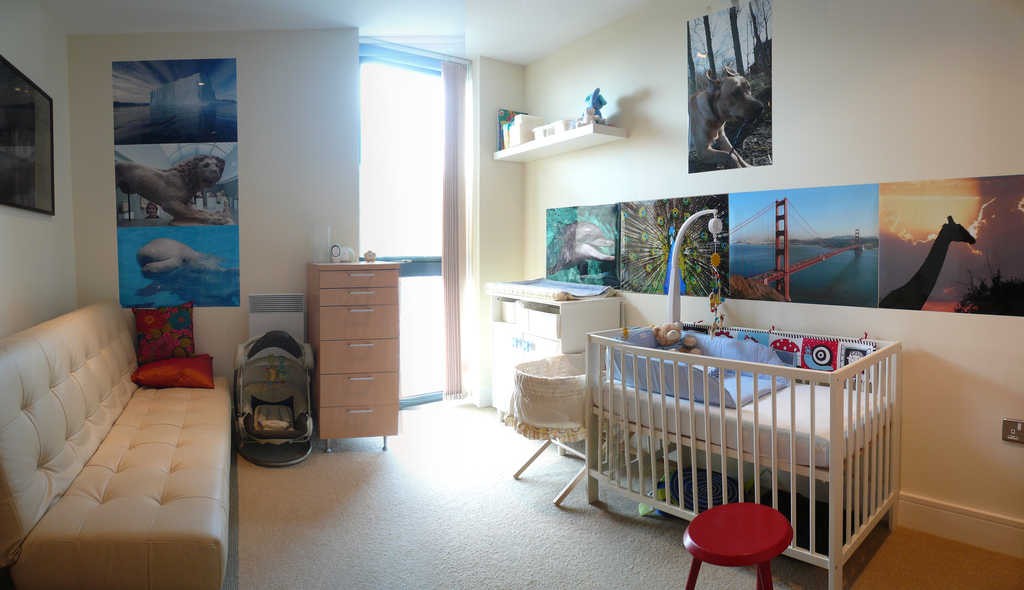 Baby clothes appear tiny and harmless, but in no time can conquer and take over the entire closet space. Cute stuff you accumulate on shopping trips, loving gifts from enthusiastic friends and family, hand-me-downs, burp cloths, crib sheets and mattress pads will soon proliferate and colonize the nursery, leaving you with a gigantic and unmanageable mess.
It is important that you work out a unique solution which will help you solve your baby's wardrobe issues. You need to maximize space as well as make it super-functional where you can find what you want, have everything you need on hand, and have space to toss in outgrown stuff and store bigger size clothes.
You need to save yourself from a situation where you discover a brand new really cute outfit just when it no longer fits. A well-managed baby wardrobe will have fitting clothes in rotation and will also have a system to bring in new ones and take out old clothes at the right time. As a new mom, you will have tons of things to attend to, so it is necessary that you maintain an organized baby wardrobe that requires the least amount of your attention.
Here are a few tips to help you out.
Go Through and Sort Clothes Regularly
This is a very important step towards having a beautifully organized baby wardrobe. Unless they are a lot many sizes too big pile, all clothes your baby has on the floor. You must go through each and every piece and remove stuff that you don't need.
You can donate the ones that are in good shape, but don't want to keep, pass on mildly used clothes to friends and store what you like the most. They will come handy when you have a new addition to the family in future. Outfits that are badly stained or spoilt beyond repair can be thrown away so that you can reclaim valuable space in the closet.
Experience has taught moms that tags on clothes rarely ever give the accurate size. It will be best if you can group outfits together based on their length. You can keep the clothes of sizes that you are not very sure of in the top drawer of the dresser and get your baby to try them on when having a change (or when in a good mood).
Make Use of Vertical Hanging Space
Use wall shelving or install double hanging rods to hang all clothes that are in current use as well as a few sizes up. You can put in closet dividers to mark size groups. This will make it easy for you to ease into the next size as soon as one group is outgrown.
Also hanging up outfits that fit and next few sizes will help you not forget gorgeous outfits at the back of shelves.
Invest in good quality infant and babies' hangers like available at Only Hangers to make it all look amazingly neat and well-organized. If you don't want to spend on closet dividers, look up handy tutorials as to how you can make it simple, easy and cheap.
But it is not possible to hang all onesies, pajamas and the hundred other things that a baby hoards like burp cloths, pants and baby legs. They can be folded and fit into a pull-out drawer in the closet, a bin or in the dresser.
Invest in Baskets and Bins
The things that a baby hoard in the first two years of his or her life are mind-boggling. If you don't have attractive baskets and bins stowed into shelving units or placed on racks in the closet, it will be a very difficult task to get your little one's closet looks good.
You can label the bins for toys, puzzles, bath toys, shoes, wipes and toiletries, and of course the bins for clothes to be donated, tossed and stored, and for clothes in use. These handy additions can conceal not-so-pretty sights in the closet, making everything appear sorted and organized.
Baskets, fabric bins, boxes and canvas cubes do an equally good job in a chest of drawers as well. You will have to invest in sizes that are suitable for your needs or go for drawer organizers like Skubb's.
Be Happy Not to Fold
If you have more than one child, you inevitably end up with a pile of washed clothes after you do laundry. Folding or rolling up each item/coordinated set will take up a whole lot of time, especially if its teeny tiny baby clothes that form a major part of that pile.
If you have containers, closet shelves or drawers of dresser dedicated to each category of clothing like pajamas, onesies, sweatpants, blankets, shorts and miscellaneous stuff, all that you need to do is make separate piles of each category from the clean laundry, fold them in half and make a pile, and toss them into the right bin. You can hang all the nice outfits and ornate dresses, as well as the longer clothes.
The best thing about having bins for daily wear is that you can quickly grab what you want without worrying about messing up other clothes in the bin.
But a point to note is that this system works when you don't have too many clothes stuffed into the bin. If you have sufficient room with storage space in the dresser and utilize vertical storage, then leaving clothes lightly folded in the bins will not crease or wrinkle them. And since they are frequently used, they will be in rotation in no time.
Make Use of Free Space
The smartest tip to organize efficiently is to make use of each and every inch of free space, and thereby simplify storage and keep clutter at bay.
Make use of space behind the door, under the bed or crib, and even on the wall. The best part is that you can put your creative instincts into play and create really beautiful and inspiring organization hacks.
Behind-the-door buckets and library walls not only look great, but can also be home to a large amount of baby stuff. Make sure that you keep them well-organized, pared down and minimal to get the desired look and effect.
The mantra for having a beautiful baby wardrobe is to never let the tiny stuff get the better of you. If you give them a free rein and let them build, very soon you will find it hard to find what you want in your little one's closet. So shop smart, hoard less, purge regularly and find a home for everything. A neatly organized nursery will also inspire your little one to follow in mama's footsteps (hopefully)!
Photo Credit: Wikimedia Creative Commons
Do you have any additional advice for new mom's?
If you find this article helpful and useful, please share it with your family and friends. Sharing helps Uplifting Families grow. Thank you for visiting.
Comments
comments