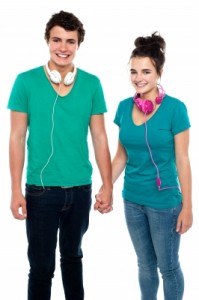 As your tween or teenager begins to mature and grow up, they will begin building relationships with the opposite sex.  It is important for your child to have these relationships so that they can develop the communication and personal skills to develop healthy long term relationships for the future.  As tempting as it is, parents you can't tell your child that they can't date until they are 30?  You want them to have practice dating and setting boundaries while you are there to help guide them with difficult choices.  Dating is a bit different now than it was when we were growing up.  I know as a teenager, I didn't have a cell phone or the Internet so that I could communicate with my friends or significant other online.  In fact, most of my communication happened either face to face or on the telephone (which used to drive my own parents crazy) as a teenager.
Disclosure:  This post is for informational purposes only.  All opinions reflected in this post are my own and may differ from your own opinions.
Teenagers are Learning How to Date and Build Relationships
Remember that you were once a teenager and you went through the same things that they are going through.  They too have to learn how to date and develop the ability to set their own boundaries in their relationships.  At this point, most teenagers have a basic idea of how dating should be but most of them aren't familiar with the compromises that come with relationships or within a marriage.  Teens are observant and model things they see other teens are doing and they base their relationship knowledge off of the relationships that were modeled by their parents or whoever they grow up around.  Now is the time to instill in your child the values that you want your teenager to hang on to when they are begin dating.
Comments
comments