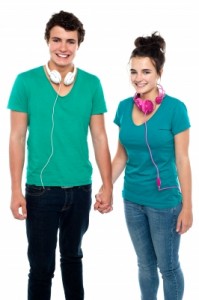 As your tween or teenager begins to mature and grow up, they will begin building relationships with the opposite sex.  It is important for your child to have these relationships so that they can develop the communication and personal skills to develop healthy long term relationships for the future.  As tempting as it is, parents you can't tell your child that they can't date until they are 30?  You want them to have practice dating and setting boundaries while you are there to help guide them with difficult choices.  Dating is a bit different now than it was when we were growing up.  I know as a teenager, I didn't have a cell phone or the Internet so that I could communicate with my friends or significant other online.  In fact, most of my communication happened either face to face or on the telephone (which used to drive my own parents crazy) as a teenager.
Disclosure:  This post is for informational purposes only.  All opinions reflected in this post are my own and may differ from your own opinions.
Teenagers are Learning How to Date and Build Relationships
Remember that you were once a teenager and you went through the same things that they are going through.  They too have to learn how to date and develop the ability to set their own boundaries in their relationships.  At this point, most teenagers have a basic idea of how dating should be but most of them aren't familiar with the compromises that come with relationships or within a marriage.  Teens are observant and model things they see other teens are doing and they base their relationship knowledge off of the relationships that were modeled by their parents or whoever they grow up around.  Now is the time to instill in your child the values that you want your teenager to hang on to when they are begin dating.
Set Realistic Dating Boundaries and Consequences
As a mom with a teenage daughter, this topic has made me somewhat nervous.  I know that my daughter is growing up and that I can't shield her from learning real world experiences until she is out of my house.  However, as a mom I do know that it is important to set realistic boundaries that she can follow while still living at home and maintain relationships with friends of the opposite sex.  It is important to talk to your teen about your expectations, so that they know and understand the rules and consequences for breaking the boundaries that you have set for them.  This is a tough topic for most parents but it is important to keep the lines of communication open so that they will come to you when they have a problem.  When talking to your teen about dating, it is important that you don't show any signs of nervousness.
Respect Your Teenager's Privacy
Your teenager probably doesn't want you snooping into every aspect of their personal lives, so it is important for you to give your child some privacy.  When they go on a date, it is important that you don't ask them 100 questions.  Teenagers sometimes do need help getting out of an awkward situation, so it is important to make sure they know that you will come pick them up at anytime so that they have an escape route.  Most teenagers will talk to their friends about their crush or who they are dating so it is important to listen to what they are saying occasionally.  Also, you want to make sure that you teenager isn't participating in sexting which is becoming a popular trend among teenagers.
Explain the Difference Between Dating, Love, and Sex to Your Teenager
Most teenagers don't realize that there is a difference between dating, love, and sex.  It is important as a parent that you discuss what each of these terms mean so that your teenager understands that they aren't the same thing.  Explain that love goes far deeper than liking someone or getting butterflies in your tummy when you are around them.  Dating allows you to get to know someone on a more personal level and learn who they really are and what they enjoy.  However, many teenagers think that dating involves sex.  It is important to instill your moral values in your children and teach them that love is more than just a physical or sexual relationship.
Reward Your Teenager for Keeping Up With Their Responsibilities While They are Dating
When it comes to dating, your teenager needs to know that it is still important that they are taking care of their responsibilities such as maintaining their grades and doing their chores at home.  If your child uses the phone or a cell phone, it is important to set reasonable limits so that they aren't constantly on the phone or texting when they should be taking care of their responsibilities.  Once they have taken care of their responsibilities without you having to remind them constantly, it is important to reward them and allow them to spend time with their date.
Teach Your Teen That Dating Can Be Expensive
Some teenagers don't have a job and rely on their parents to pay for their dating adventures, so your teenager needs to know that you don't mind giving them a reasonable amount of money occasionally but they may have to find activities that don't cost money to do.  A teenager who has a job, might have a bit more flexibility with their finances and can go on more outings as long as their responsibilities are taken care of first, especially if they have a car.
What Is Your Responsibility as a Parent to Make Ensure That You Maintain A Healthy Relationship with Your Teen While They are Dating Someone?
Parents it is important that you set the expectations when your teenager begins dating their first crush.  This will set the tone for any subsequent dates or relationships that your child will encounter during the rest of their teenage years.
Set firm boundaries.
Be flexible and allow your child to go on group dates if you don't feel as if he or she is old enough to go on one on one dates alone.
Keep the lines of communication open.
Be honest with your child.
Always give your child an escape route in case they end up in a situation that is uncomfortable for them.
Support them as long as they are following the rules.
Be there for them if they need someone to listen to them or for a shoulder to cry on.
To get weekly updates to Uplifting Families, please subscribe to my newsletter or join in the conversation with me on Twitter, Facebook, Pinterest, and G+.