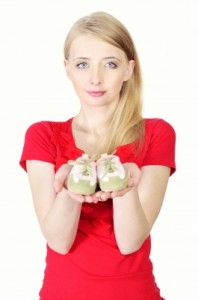 The moment you find out that you are expecting, many women are often overwhelmed and have mixed emotions.  Most women are thrilled to be expecting while other's are scared to death.  All of these emotions that you are feeling are normal.  It will take time for many parents to adjust to the thought of being responsible for someone else in less than 9 months.  Whether your pregnancy was planned or not, having a baby is a life-changing event.
Disclosure:  This post is for informational purposes only and all opinions reflected are my own.
Are You Feeling Overemotional?
Your body is going through a bunch of physical, hormonal, and emotional changes to in order to a grow your baby.  All of these changes may leave you feeling more emotional than normal.  You may experience crying spells, feel sad, or overwhelmed.  If this happens, you may find yourself explaining to your husband, family, or friends that it is just your pregnancy hormones.  They may find it funny, but try your hardest not to get upset with them.  Many women feel that they need to let the tears flow and cry it all out, so that they feel better.
Mood Swings
Pregnancy hormones and changes are often noticed in the first trimester and are blamed for your crazy mood swings.  During pregnancy your body is producing varying levels of estrogen and progesterone, the change is so drastic that alters your brain chemistry.  It will take a few weeks for the hormones to level out so that you feel somewhat normal again, this usually happens around the second trimester.   Talk to your health care provider if you feel that your mood swings are severe and affecting your ability to function normally.  Your doctor can determine if you are suffering from an underlying medical condition such as depression, anxiety, hyperthyroidism, anemia, and gestational diabetes.
What Can I Do to Help me With My Mood Swings?
There are a number of things that you can try to help you relax and help you deal with your pregnancy hormones.  Find what works for you and helps you de-stress:
exercise
crying
laughing
medication (determine by your doctor or health care provider)
meditation
classes to deal with stress
counselling
These techniques can be used throughout your pregnancy and help you cope with your changing body as your body adapts to a growing baby.
How to Connect with Your Husband During Pregnancy?
Many women find that they don't want to be touched, especially during the first and third trimesters when they are generally feeling ill or like a whale.  It is important to communicate with your partner and let him know how you feel so that he doesn't think its him causing you to feel the way you do.  It is important to find alternative ways to connect with your husband.  For example, if your breasts are overly sensitive, explain to him that he can't play with your breasts because they are overly sensitive right now.  You can also find other ways to connect with your husband outside the bedroom, such as going out on a date together, go shopping, playing games, anything else that you enjoy, ect.
To get weekly updates to Uplifting Families, please subscribe to my newsletter or join in the conversation with me on Twitter, Facebook, Pinterest, and G+.
Did you have raging hormones when you were pregnant?  How did you cope with the changes?