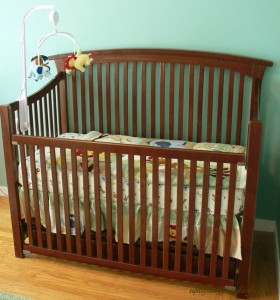 The crib is ready to go and everything is prepared for the baby's arrival.  The only thing that you are waiting on is your baby to make his or her grand entrance.  At this point of your pregnancy, you are probably anxiously waiting for the opportunity to finally meet your baby.  However, once you begin labor and are admitted into the hospital then the real work begins.
The first few days are generally a blur; especially, while you are still in the hospital.  I remember that I didn't get much sleep and my baby didn't want me to put him down in his bassinet, which is normal.  The outside world is new  for your baby and they are adjusting to life outside of the womb.    In the womb your baby was used to being snuggled up, in a tiny ball.  Also during the day when you are moving around you are gently rocking your baby and have the perfect white noise, your heart beat and your voice.  You may have noticed while in your tummy that your baby was more active at night as well, which is why a newborn seems to be awake more at night and have their days and nights confused.
Disclosure:  The opinions reflected in this post are my own and my differ from your own opinions.
Many mom's will tell you that they didn't get very much sleep while they were in the hospital, I know that I never hardly got an restful sleep.  Just as if you are about to drift off to sleep, someone comes into the room wanting to check on you or the baby or someone comes to visit you.  I was always so anxious to go home and So that I could actually get some rest.  However, once you are at home your baby may not want to have anything to do with his or her crib.   This leaves many parents often find themselves scrambling to find a safe place for baby to sleep.  Swaddling may help your baby get accustomed to sleeping alone and in their crib.
The Benefits of Swaddling Your Baby
Most of the hospital nurses, will teach you how to swaddle your baby so that he or she feels secure.  Swaddling can help babies sleep better and can even help them sleep for longer stretches at a time.  An unswaddled baby will often wake themselves up because they feel like they are falling, this is known as the moro reflex.  This reflex slowly disappears by the time your baby is 4-5 months old.
It is important that you swaddle your baby as tightly as possible.  A loose swaddle or improper technique, you may find that your baby figured out how to kick out of it and will wake themselves up.  You can use a receiving blanket, muslin cloth, or buy the fancy swaddling blankets.  Once your baby is around 4-5 months old, you no longer have to  swaddle your baby unless they seem to enjoy it or it helps them sleep better.  However, an older baby usually figures out how to get out of a swaddle blanket, even the miracle wrap blankets.
Demonstration on How to Swaddle Your Baby
To get weekly updates to Uplifting Families, please subscribe to my newsletter or join in the conversation with me on Twitter, Facebook, Pinterest, and G+.
Did you use swaddle blankets for your baby?