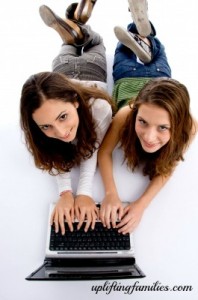 If your child has social media accounts, like Facebook, it is your responsibility as a parent to ensure that your child learns how to safely use the Internet.  I realize that most parents are busy; however, it is important to know exactly what your child is engaging in on the Internet.  The Internet is full of dangers and if you know what your child is engaging in, then you can step in and explain to your child why this behavior is dangerous.
Disclosure:  The opinions reflected in this post are my own and may differ from your own opinions.
I Don't Want to Invade my Teenagers Privacy
Many parents feel that they should allow their teen to have their independence and don't want to invade their privacy.  With this approach, your child may find themselves in a dangerous situation and often times they will hide their activity from you. Teenagers are social creatures and they find social media is a great way to connect with their friends outside of school.  Social media is still evolving and many teenagers are not aware of the dangers that are involved with using social media.
Online Monitoring Creates Accountability
Parents should find a way to monitor their teenagers social media use while still maintaining their privacy.  A teenager may feel threatened when you tell them that they have to add you to their friend list; however, explain to them that you care about them and want to make sure that they follow the rules.  If you are uncomfortable with adding your teenager as a friend,  you can designate someone to "check on" them and report any misbehavior or abuse to you.  This will hold your child accountable and protect them from the dangerous activity on the Internet.
Why is it Important to Follow your Teenager on Social Media Platforms?
Following your teen online not only protects them from online dangers.  Many young people don't fully understand the dangers because they are still naive and they don't realize that they could be potentially putting themselves in harms way.  If you are following your teen, then you can chime in when you feel that your teen is engaging in harmful activity or potentially harmful situations.  Instead of, getting upset with them and punishing them on the first offense, use it as a teaching opportunity.  Explain to them what they are doing that is dangerous and tell them why it is dangerous.  Let your teenager know that you care about their safety and want to help them.
To Be Continued: Teach Your Child the Dangers That Lurk on the Internet – Part 3
To get weekly updates to Uplifting Families, please subscribe to my newsletter or join in the conversation with me on Twitter, Facebook, Pinterest, and G+.
Does your child use the computer or a smart phone?  Do you monitor their social media activity?