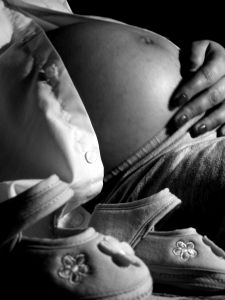 Many pregnant women often wonder how much weight they should gain during the duration of their pregnancy?  Most doctors and midwives recommend that most healthy moms gain between 25 to 35 pounds.  The term "eating for two" is a common phase that pregnant women use, when in fact most women only need to eat only a small amount of additional calories a day.  Doctors are now recommending that pregnant women only eat an additional 300 to 500 calories extra a day.  Instead, many women are consuming far too many calories a day and packing on excessive weight during pregnancy.
Disclosure:  This post is for informational purposes only.  All opinions in this post are my own.
Avoid Excessive Weight Gain
Women who pack on to many pounds during pregnancy, often times they will have a hard time losing the baby weight after the baby is born.   Extra weight can decrease a women's confidence and leave them feeling unhappy or depressed.  It is hard enough to care for an infant without worrying about losing an excessive amount of weight.  By following a few simple guidelines, you can easily prevent excessive weight gain.
Powered by

Sidelines
Comments
comments