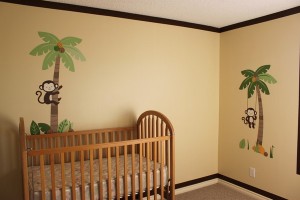 Many parents work very hard to decorate a nursery for their baby; however, most parents will tell you that their child didn't sleep in his or her own room for the first few weeks.  During those first few weeks most parents choose to keep the baby in their room so that they can easily check on them during the middle of the night.  Keeping your baby in your bedroom for the first few weeks, allows you to adjust to your child's sleeping habits and breathing noises so that you can immediately tell if something doesn't seem right.
Disclosure:  This post is for informational purposes only.  All opinions reflected in this post are my own.
Baby Monitors Can Help Parents Sleep Better Because They Can Hear Their Baby's Movements
If you decide that you want your child to start sleeping in his or her own bedroom, invest in a baby monitor or a sensor that detects baby movements.  These products can give you peace of mind; however, they shouldn't replace you physically checking on your baby every few hours.  The best way to prevent Sudden Infant Death Syndrome: make sure that your baby's crib is placed in a well-ventilated area, put your baby too sleep on his or her back, reduce exposure to tobacco smoke, allow your baby to ample tummy time, and use a pacifier if possible.
Try Transitioning Baby to Their Own Room During Nap Time
As a parent, you must decide when it is best to transition your baby into their own room.  Most babies feel a sense of comfort when they know that someone is near, so when they begin sleeping in their own room they may feel lonely.  Nap time is a great way to start transitioning your  baby into his or her own room, because you can easily check on them while they are sleeping.  It also allows your baby to become familiar with the new surroundings when it isn't quite as dark in their room.  This will make nighttime transition go much smoother, when you are ready to completely transition your baby out of your bedroom at night.
Alternative Ways to Ensure that Your Baby Is Warm While Sleeping Without Using a Blanket
Using a sleep sack or heavy pajamas will keep your baby warm during the middle of the night, so that you don't have to put a blanket on them while they are sleeping.  If you cover them with a blanket, make sure that it is a thin blanket so that they can still breath if they accidentally cover up their face with it.  Another great option to wrap your baby in a sleep blanket that is designed to keep them safe while covering them up.
Photo credit: chrisofdavies / Foter / CC BY-ND
To get weekly updates to Uplifting Families, please subscribe to my newsletter or join in the conversation with me on Twitter, Facebook, Pinterest, and G+.
Did your baby sleep in his or her own room?