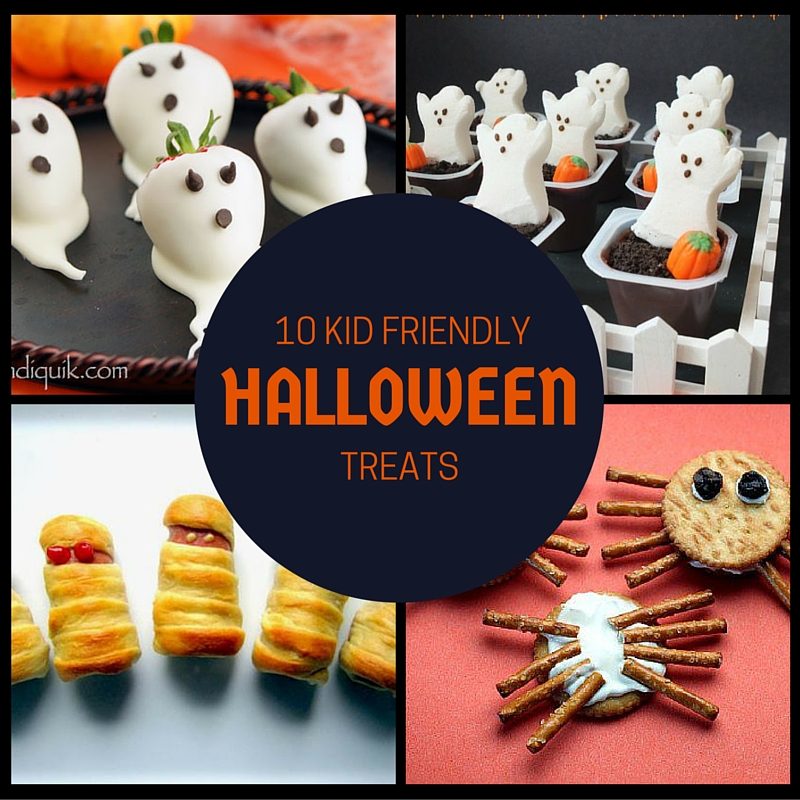 Fall is on it's way! I am excited for the cooler weather so that we can enjoy some time outside. I am not a huge fan of summer time in Texas because as soon as you walk outside you are immediately drenched in sweat. I don't remember it being that way when I was a kid though. I used to spend time outside during the summer time and it didn't seem to phase me. Of course, I would spend a ton of time either at the skating rink or in the swimming pool.
Disclosure: This post may contain affiliate links.
I also love fall because that means tons of fun fall activities including Halloween. Today, I wanted to share with you some fun Halloween treats.
These cute chocolate witch's hats are simple and easy to make. Just grab some stripped fudge cookies, Hershey kisses, mini M & Ms, Chocolate chips with Sprinkles, sprinkles, and chocolate icing. Simply turn a stripped fudge cookie over and pipe a small amount of chocolate icing onto the middle of the cookie. Then place the unwrapped Hershey kiss in the middle and push it into the icing. You want enough icing on the cookie to overflow after you place the Hershey kiss in the middle so that you can use the icing to add the decorative toppings. My directions are adapted from Juggling With Julia, she used gel under the Hershey kiss but from my personal experience it doesn't usually taste very good.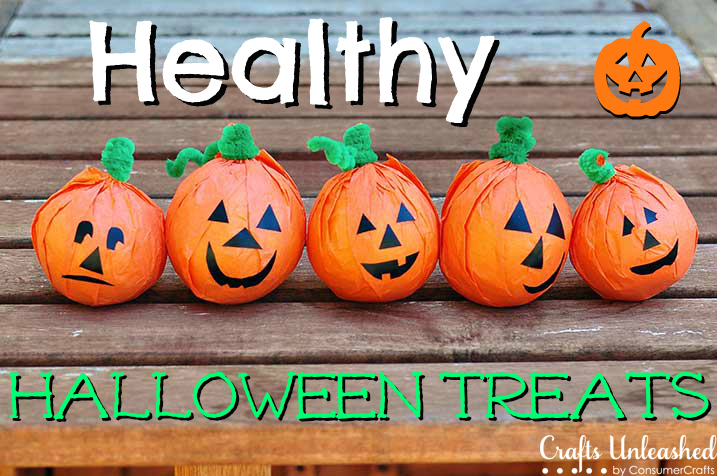 The kids will love these cute and healthy Halloween treats. With all of the candy that kids will get from Trick or Treating, this would make the perfect snack for your child's class Halloween Party. You will need the following items: bag of navel oranges or cuties (if you can find them this time of year), orange tissue paper, green pipe cleaners, and black construction paper. Simply wrap the orange inside of the orange tissue paper and use the pipe cleaner to cinch the tissue paper closed. Make eyes, nose, and mouth using black construction paper and attached it to the tissue paper with a dot of glue.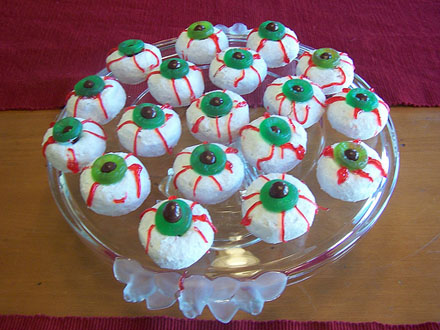 This would be a perfect treat to serve your kids for breakfast or as an after-school snack. For this treat you will need the following: powdered sugar donuts, red gel or icing, two 11 ounce bags of white chocolate chips, 1 bag of chocolate chips, and lifesaver original flavors or gummy lifesavers. Melt white chocolate chips on the stove top on medium high. Be careful chocolate burns easily so you need to keep a close eye on it. Stir it frequently until it is fully melted. Then use a fork and poke it into the bottom of the donut. Dip it in the chocolate. Then lay it on parchment or wax paper to dry. Add green lifesavers over the hole in the donut and add 1 chocolate chip in the middle of the lifesaver. Then once the white chocolate is completely dry, add red squiggly lines from the iris.
I saw this idea on Tracy's blog Nest Full of New and wanted to share the Jack-O-Lantern Fruit cups with you. Aren't they super cute and healthy (not that kids are looking for healthy treats).  Grab some fruit cups from the store and pull them apart. Simply draw a pumpkin face on top of the fruit cups and pass out to the kids. You can use mandarin oranges or peach cups. You can even use these for class Halloween parties.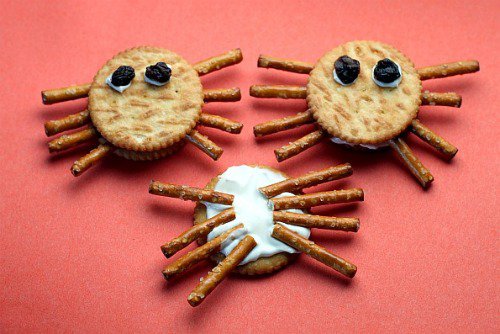 If you are looking for a treat that is wholesome and filling, try these cute Halloween Spider crackers snacks. For this fun treat you will need the following: Ritz crackers, pretzel sticks, cream cheese, peanut butter, Nutella, or almond butter, and raisins. Simply lay a cracker on parchment paper and add the filling. Then break 4 pretzels sticks in half and make the spiders legs. Add a small amount of filling over the top of the pretzel sticks so that they stay in place. Then top with another cracker. Add a small amount of the filling to a raisin and add the spiders eyes.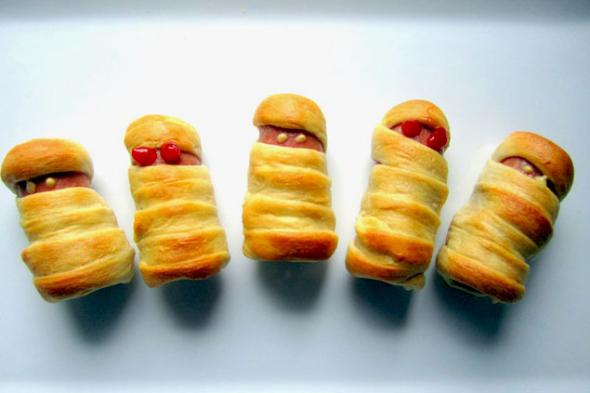 Are you looking for a quick meal idea for dinner on Halloween night before you head out to go trick or treating? The kids will love these cute mummy hot dogs. Pick up the following ingredients: crescent rolls or bread sticks (same section as the biscuits), package of hot dogs, ketchup and mustard. Preheat your oven to 375 degrees while you prepare them. If you want more to go around, cut the hot dogs in half. Make sure that you pat the hot dogs dry before you wrap the dough around. Unroll the crescent rolls dough and pinch any precut lines. Then cut into vertical strips. Wrap the dough around the hot dog like a mummy. Then use the ketchup and mustard to make the eyes.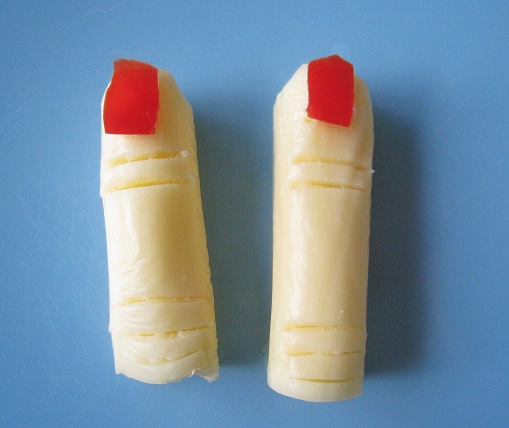 This is a super simple snack and it packed with plenty of protein for your child. Simply buy some sting cheese sticks and strawberry fruit roll ups. Unpeel the cheese stick from the wrapper and cut it in half. Then use a knife to create the indentions in the cheese stick. Then cut a small piece of the fruit roll up and put a drop of water on it. Stick it to the cheese stick and let it dry or you can use cream cheese. If you don't want to use fruit roll ups, you can also use a small piece of red pepper.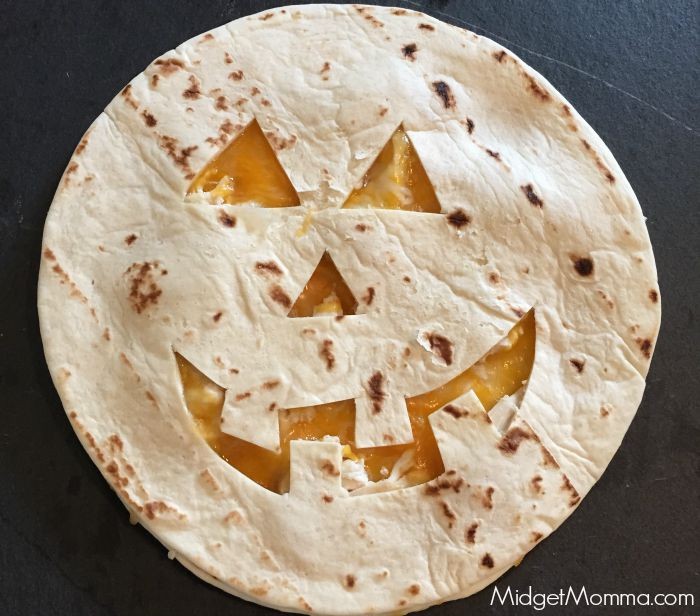 These are super cute Halloween dinner idea. The kids will love the Jack O Lantern design and it is a quick meal idea for Halloween night. Simply grab some flour or whole wheat tortillas, chicken, Mexican blend of cheese or Colby jack, anything else that you enjoy in your quesadillas. Kids typically enjoy cheese quesadillas. On a plate, cut out the jack o lantern face using a knife. Lightly coat a tortilla with olive oil and place in skillet. The gently place the face down until it is lightly toasted. Then remove from heat and place the other tortilla in the skillet after you coated one side with olive oil. Then add cheese, chicken, or toppings that you enjoy. Remove quesadilla once all the cheese has melted and the tortilla is lightly toasted. Serve with your favorite salsa, guacamole, or sour cream.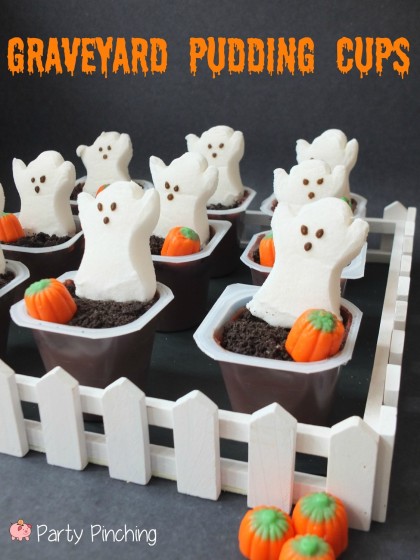 Try these cute graveyard pudding cups. Simply pick up the following items from the store: chocolate pudding cups, Oreo cookies, ghost peeps, and pumpkin candy. Crush the Oreos using a food processor or using a rolling pin/ziplock bag combination. Sprinkle the "dirt" on top of the pudding cup. Then stick a ghost in one of the corners. Add a few pumpkins. Put several of these snacks together for a spooky graveyard display/centerpiece.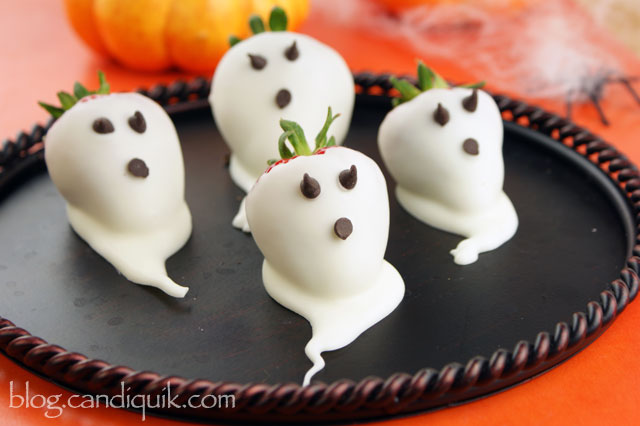 This is one of my favorite Halloween recipes that I stumbled across today as I was putting this post together. Chocolate and strawberries, yes please! You will need the following items: Strawberries, 1 (16 oz) package [amazon_link id="B003ZWPC94″ target="_blank" rel="nofollow" ]Vanilla CANDIQUIK Coating[/amazon_link] or use white chocolate, and mini chocolate chips. Dip these strawberries into the candiquik coating. Then allow the excess to pool at the bottom of the strawberry so that it looks like the ghost melted, give it a quick swipe with a toothpick to form the tail or drizzle a small amount of candiquik. Then pull the strawberry back. Then add two mini chocolate chips for the eyes and cut off the tip off a third chocolate chip. Then place the chocolate chip so that the bottom faces outward.
Which treat are you planning on making for your children?
If you find this article helpful and useful, please share it with your family and friends. Sharing helps Uplifting Families grow. Thank you for visiting.
Comments
comments