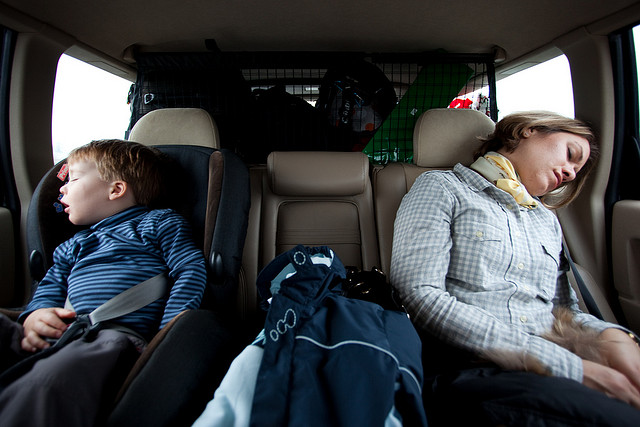 Family road trips may be stressful if you don't plan ahead and anticipate potential mishaps. While a lot of things could go wrong, being prepared for anything helps to avoid problems. These 10 tips will help your next family adventure go as smoothly as possible.
Get Your Car Checked
Before backing out of the driveway, make sure your car is . Take it to the mechanic or do it yourself if you're knowledgeable. Be sure to check fluids including the oil, brake fluid, windshield solution, clutch and power steering levels. Also check the tire air pressure, air filter, wiper blades and lights in the signals and brakes. Double check that any car or booster seats are securely installed.
Clean and Organize Your Car
Wash the windows and side mirrors for good visibility. Clean and remove clutter from the car's interior. Check your first aid kit and emergency supplies. Make sure your vehicle registration and proof of insurance are easy to find. Take advantage of the space you have, such as using your cup holders for tissues and hanging a plastic shower organizer on the seat backs to hold kids' supplies. Zip pouches can hold toiletries, crayons and paper to keep the little ones entertained.
Pack backup car accessories in your vehicle before leaving on a long road trip. These include replacement seat covers, floor mats, and even pet-friendly covers. This way, you can replace your soiled covers and mats right there and then in case of messy emergencies and no car wash or service center in sight. These days, it's easy to get ready-made, custom-fit car accessories for Nissan Navara and other car models online, no measuring or fitting needed.
Plan Your Route
Plan the best route to your destination before leaving home. A GPS navigation system can help you save time, energy and money on wasted gas so you don't get lost. These devices allow you to enter the address of your destination and will show you the route and your estimated arrival time. It will even show you good locations for pit stops and gasoline fill-ups. In case of a GPS malfunction, take a paper map or printed directions with you. Consider driving overnight to avoid heavy traffic.
Stock Up on Travel-friendly Food
Planning pit stops is a great idea, but chances are good that at least one person will be hungry or thirsty at an inconvenient time. Stock up on healthy travel size foods and drinks that don't make a mess. Consider water bottles, juice bags, fruit strips, beef jerky and sandwich crackers. Keep things in a cooler for summer travel. Bring along a plastic bag to collect trash.
Family Travel Clean-up Kit
While on the road, things can get messy. Someone might spill their drink or get carsick. Pack plenty of plastic bags, air freshener, cleansing wipes, hand sanitizer and fabric cleaning wipes. These can be packed into a travel kit and put under one of the seats.
Try to Pack Light
The weather, your driving style and your car's features all affect your fuel economy. Another factor is how much stuff is packed inside your car. Only bring what you need, as this helps save time, space and gasoline. Consider what type of travel bags or suitcases to use and involve everybody in the packing process. Try to keep kids limited to just a couple of small toys. Keep large pieces of luggage in the back or trunk and have smaller, frequently used items under the seats or near the feet of the passengers. Kids can hold a toy or two in their laps.
Plan Fun Activities for Kids
Little kids get bored quickly when just sitting in their car seats. Plan some fun activities to keep them entertained, such as no-mess markers and pencils, handheld puzzles, books and travel games. Use the on-board DVD player or play your favorite music and sing along. Keep everything at hand so you don't have to search for things to keep your kids occupied.
Keep Track of the Weather Forecast
Keep updated on the weather forecast for your entire travel route and your destination. This helps you know what to pack and how to prepare your vehicle, such as whether you'll need deicer for your locks. Consider postponing your trip if unfavorable weather conditions are forecast. If the weather changes unexpectedly while you're on the road, you might need to change your route or stop overnight until conditions improve.
Strategically Planned Pit Stops
While deciding your route, you can also plan your pit stops. Consider the amount of time each family member can handle before a break is needed. You can try to plan around places you'd like to see and make a park or interesting restaurant into your planned stop. Use one of the many travel sites to find useful information and reviews such as whether there are fully featured bathrooms on site. Stopping every couple of hours lets everybody stretch, use the restroom and get some fresh air.
Set Off Rested
Your trip will be more enjoyable if you and your passengers are well rested when you set off. If you're leaving early in the morning, go to bed early the night before. If you plant to leave later in the day, try to do as much as possible the day before to avoid last minute stressors. Being well rested helps you stay focused and limits the frustration people may feel with one another so that you can have a better time together. No matter whether you're traveling across the state or the country, taking these precautionary measures can help to make sure your trip is as fun and enjoyable as you hope. After doing everything in your power to prevent problems, you can sit back, relax and enjoy the trip.
Photo Credit: Flickr via Creative Commons
About the Author
Patricia Dimick is a Denver based freelance writer and a fun stay-at-home mom. This passionate coffee drinker loves to write about parenting topics and enjoys DIY projects. Patricia spends her free time playing table tennis or enjoying trips to nature with her precious daughter and loving husband. You can reach her @patriciadimick.
What advice do you plan on following next time you travel with your children?
If you find this article helpful and useful, please share it with your family and friends. Sharing helps Uplifting Families grow. Thank you for visiting.
Comments
comments