With their hectic work and family schedules, parents often forget to take good care of, neglecting their health in the process. Having a family to take care of should be enough reason for parents to do everything they can to stay healthy, no matter how busy they are. When the welfare of your loves ones is at stake, caring for yourself is as important as caring for your spouse and children. It could be as simple as using all-natural cleaning alternatives for home when doing your household chores, but this can go a long way in securing your health in the long run. Here are some simple but effective ways that parents can stay healthy despite their hectic schedules.
Opt for Natural Cleaning Alternatives
Harsh chemicals can make cleaning faster and easier but are they really worth using considering the negative effects they can have on your body? Alternative household cleaners are not only safe to use, they can be easier on the pocket as well. Instead of using scrubbing detergents, why not use a mixture of vinegar and baking soda to clean the toilet bowl? For cleaning and deodorizing countertops, you can use lemon and water mixture in place of soap. Choosing healthier cleaning options will also minimize the amount of chemicals your child will be exposed to.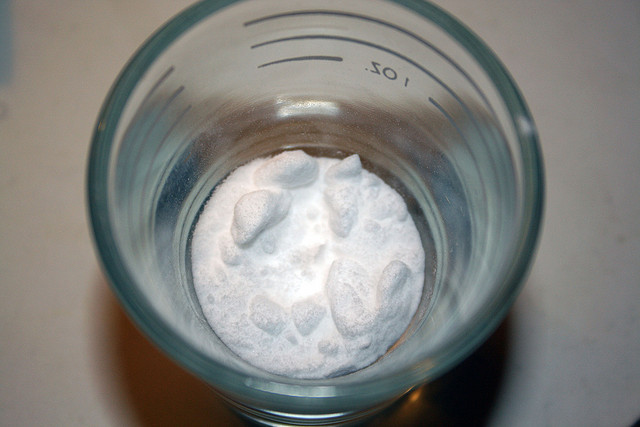 Photo courtesy of Kat via Flickr, Creative Commons
Exercise at Home
If you can't squeeze in some gym time in your busy schedule, you can simply do your exercises in the comfort of your home. It's way easier to find time for home workouts than going to the gym on a very limited schedule. There are lots of exercise DVDs to choose from, from calm and relaxing yoga sessions to hyper and energetic Zumba classes.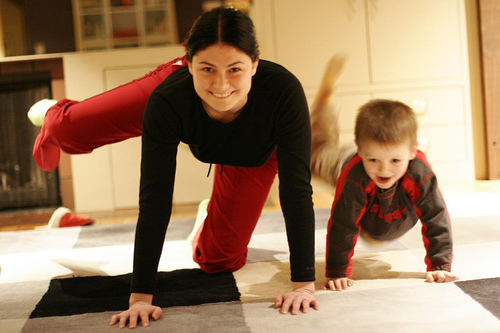 Photo courtesy of Sean Dreilinger via Flickr, Creative Commons
Go Running
If you have ample free time before or after work, lace up your sneakers and run a kilometer or two everyday. Running is one of the simplest workouts there is and you will have an easier time getting motivated knowing that all you need is your sneakers to go for an exhilarating run. If you get an hour for lunch, you can also use your lunch break to go running. For example, use the first 30 minutes of your lunch and devote it to running or walking (if you are in an area where you can safely do this) and devote the second half of your lunch for eating your lunch.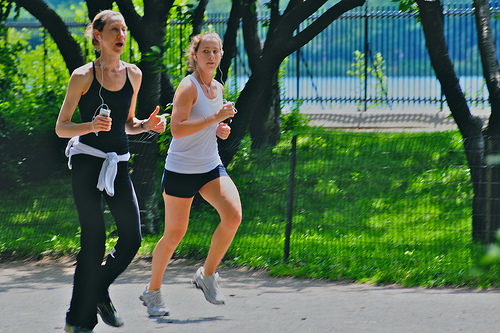 Photo courtesy of Ed Yourdon via Flickr, Creative Commons
Use your Daily Commute as Part of Your Exercise Routine
If you feel that your daily home workout is not enough, why not use your commute to and from work as a way to burn more calories? If your office is just near your house, consider walking or biking to work instead of driving. That way, you can keep that heart rate pumping and save gas at the same time.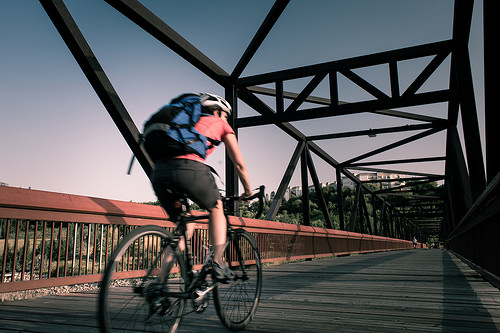 Photo courtesy of Daveography via Flickr, Creative Commons
Skip the Elevator
This may not be a great idea if your office is on the 40th floor, but if you are only six floors above ground, why not skip the elevator and use the stairs? Don't fret so much about getting hot and sweaty in your work clothes – what's a little perspiration compared to getting some much-needed exercise before work? If you need to freshen up, take a small bag with a towel, deodorant, and anything else that you might need.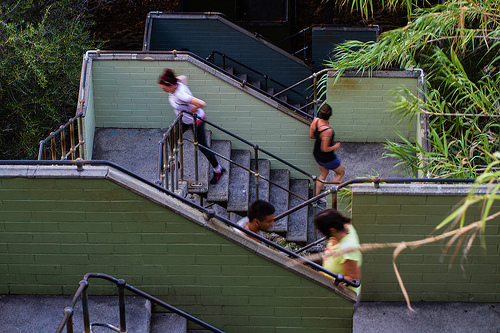 Photo courtesy of Traveller 40 via Flickr, Creative Commons
Use a Standing Desk
Parents who work in the office spend most of their day sitting on their desks, which can increase health problems in the future. If quitting your desk job is not an option, you can still do something about it by requesting for a standing desk to be placed in your office or work station. Using a standing desk regularly can reduce the risk for diabetes, obesity, cardiovascular disease and even cancer.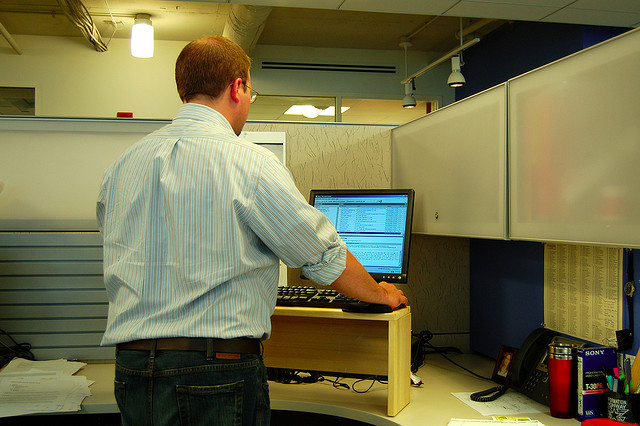 Photo courtesy of drewsaunders via Flickr, Creative Commons
Plan your Meals
Most working parents are guilty of not planning their meals and just grabbing something to eat at the nearest fast food restaurant or café. While this can indeed save a lot of time and effort, this is not the best way to get the healthy, nutritious food that your body needs. Eating fast food fare should not become a habit.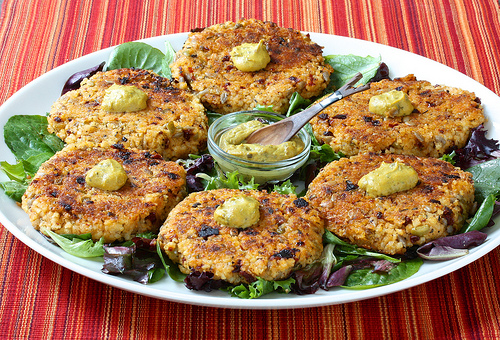 Photo courtesy of Meal Makeover via Flickr, Creative Commons
Try spending some time during the weekend planning and cooking your own meals, which you can bring to work. This may sound tedious at first, but think of the long-term benefits. Home-cooked meals are cheaper and can be made more nutritious if you choose the ingredients carefully. You can plan for light and healthy fish and vegetable meals that you can simply reheat in the pantry during lunchtime.
Go for Fresh, Organic Produce
If you are open to using eco-friendly cleaners, then you can understand the need for choosing organic produce. Organic food ingredients are made using eco-friendly methods, which will prove beneficial both to the consumer and the environment. Organic products are more widely available now, with more choices for the busy parent in the grocery.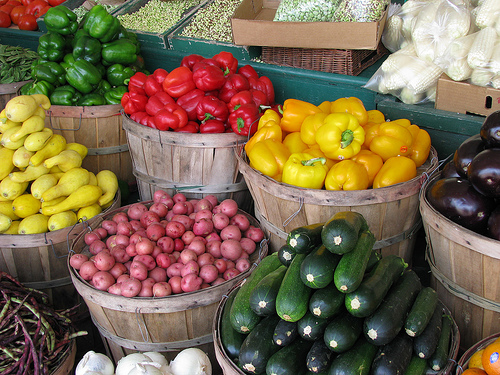 Photo courtesy of Natalie Maynor via Flickr, Creative Commons
Keep Healthy Snacks in the House
Instead of filling your cupboards with cheap and tasty junk food, why not keep healthier snacks that you and your family will learn to enjoy? If you are already used to eating junk food, it can be quite challenging to make the switch to healthy snacks, but keep in mind the long-term benefits on your health and well-being. Some of the delicious snacks you can enjoy without guilt include carrot sticks, turkey and veggie sandwich, nuts, and unsalted pretzels.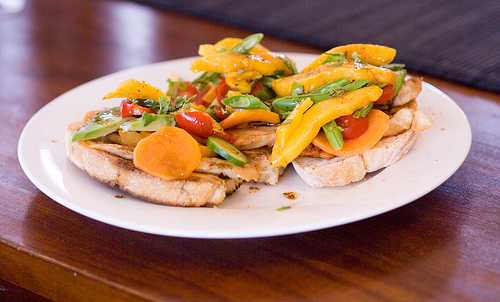 Photo courtesy of Schilling via Flickr, Creative Commons
Make Time for Yoga
Parents need time to relax after keeping their hands busy at work and at home. Yoga is a perfect activity for the tired parent who needs to de-stress. You don't need hours of free time everyday just to practice yoga. There are activities that you can do for less than an hour; fifteen minutes is enough for simple breathing exercises, meditation, and prayers. If you have more time, you can sign up for yoga classes and enjoy doing the downward dog with other parents.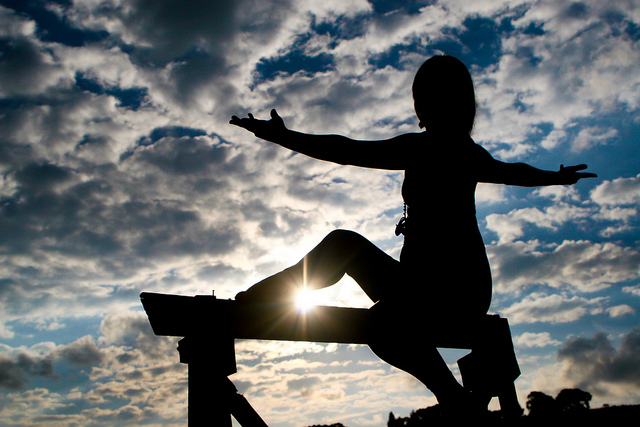 Photo courtesy of jeanwichinoski via Flickr, Creative Commons
Go Swimming with Your Family
The best way to enjoy health and fitness is to share the experience with your family. Going swimming with the family is a great way for Mom and Dad to spend quality time with the kids while getting some fun, low-impact exercise. Take the troops to the community pool and spend the morning frolicking in the waters.
About the Author
Jeanette Anzon is a graduate of Architecture . She enjoys photography, sketching, arts, film and continuous education. Currently, she works as a broker and as a home stylist, accommodating clients mostly in North America. Her exposure to the market has initiated a deeper learning to real estate, marketing communication and home design. You can connect with Jeanette on Google+.
Do you have any other tips on how to get healthier this year?