14 Family Friendly Games to Play on National UnPlug Night  #UnPlugwithCarrom
I wanted to share with you some fun games that you can play in your living room on National Unplug Night.
Checkers
Grab the checker board out of the closet. Set it up and play several games of checkers with different family members. This is a great game and helps your child develop strategy and critical thinking skills.
Uno
This is one of our family favorites. It is a great game to teach your kids because it is pretty simply. You can even use the game to teach your child about numbers, colors, and matching.
Skipbo
This is another one of our favorite card games. It is great for kids that are a bit older. It is a great game that helps build critical thinking and strategy skills.
Backgammon
I never really understood this game growing up but it is one of the oldest two player games that has lasted throughout the years.
Connect 4
This is a great game for younger kids. You simply slide colored discs into the game board and you try to line up 4 in a row before your opponent.
Old Maid
This was a favorite game when I was growing up and it is great for younger kids.
Go Fish
This is another one of my favorite games when I was growing up. It is easy to play and it is another great game for younger kids.
Dominoes
I remember playing this game with my grandfather and it was always fun. If you have dominoes, two people can play this game while the others play another game.
Monopoly
This game can get long but it is a fun game that you can play together as a family. They even make a junior version for the younger kids. This is a great game to use to help teach your kids about money.
Clue
This was one of my favorite board games that I used to play with my friends when I was growing up. It is a fun suspect game that your kids will enjoy for years to come.
Sorry
My kids enjoy playing this game. It is a fun game for the entire family.
Chutes and Ladders
My youngest son got this game for his birthday and enjoys playing it. He can learn to count while having fun playing a game.
Candy Land
This is another popular game for toddlers to play. You can use this game to help teach them their colors while having fun.
Game of Life
I also enjoyed this game while growing up. It was fun pretending that you found a spouse, had kids, and even your dream career. If only it were really that easy. This game is another great game for helping teach your kids about money.
I hope this list of family friendly games give you a few ideas on how to spend National Unplug Night with your family. Of course, you don't have to spend the evening playing board games but you can find other family friendly activities that you enjoy such as going to the park, playing outside, or even sitting down together for story time.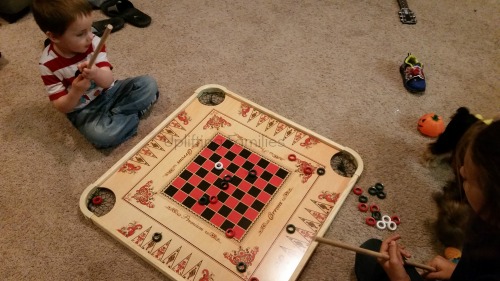 If you don't have any of the traditional games, check out Carrom Games for all of your family favorites plus they have a selection of other table top games like hockey, foosball table, and balance boards. I was given the opportunity to review the Carrom Gameboard which features a ton of classic games and some that I haven't ever heard of. My kids wanted to open the box as soon as I received it and would ask me over and over if they could play games. I finally let them open the game board over the weekend and they had a ton of fun playing games.
What is your favorite game to play on game night?