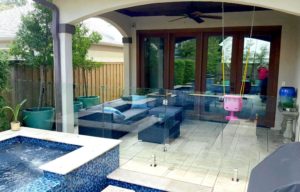 If you own a swimming pool, it's essential to install a pool fence to keep children, neighbors and pets safe. Accidental drowning deaths are sadly all too common, yet they are easily preventable. Taking the time to make sure a proper barrier is in place can save the life of a child who might wander into the area unsupervised. Not only will a pool fence keep you up to code, it will give you peace of mind knowing your children can play safely in the backyard. When choosing a pool fence, there are a few major things that should be taken into consideration.
Will it last?
There are many traditional options available for pool fencing, such as wood, iron, and mesh. These materials are relatively inexpensive on the front end, but can be susceptible to corrosion, rot, and constant upkeep. Glass pool fences are becoming a popular alternative for families looking to create a safe space for their little ones to play. These pool fences are made of ½" thick tempered safety glass and corrosion-resistant stainless steel that is durable and low maintenance. A glass pool fence glistens in the sun and can stand climate and weather changes without deteriorating over time. It should be easy and effortless to maintain your pool fence, giving you more time to enjoy your outdoor family adventures.
However, nothing can beat the traditional chain link fences. If you are looking for good and reliable option for chain link fences in Minneapolis for home solutions there's Northland Fence, they have a variety of affordable options to choose from.
Is it secure?
The sole purpose of a pool fence is to keep the swimming pool secure from curious children and pets. The most important feature of any pool fence is a self-latching gate that closes automatically. Many pool fence companies also offer a keyed latch, so the gate can be locked when the pool is not in use. The fence itself should also meet local height requirements (4 or 5ft) and be installed so there are no footholds. One advantage of glass pool fencing is the climb resistant panels, which also allow clear views of all activities in and around the pool area.
Is it up to code?
Installing a pool fence that meets local safety code requirements is a must. Check your state's guidelines for specifications on the required height, minimum gaps, and gate features. When it comes to the safety of our children, it's a wise investment to follow these requirements to ensure that the pool fence is safe and built to last. Of course, choosing a reliable company and a professional licensed installer is equally important.
Take some time to research the pool fence options available and decide which is best for your family. Make sure to choose a pool fence that is durable, effective, and built to code. You'll gain peace of mind and the freedom to enjoy your outdoor oasis.