Other Recommendations for Healthy Eating
Limit the consumption of sweets, sweet desserts, soft drinks and the so-called fast foods such as hamburgers, pizza and french fries.  Their consumption does not provide useful nutritional value to the body and may cause damage to children's teeth. If children consume too much of them during the day, they will lose appetite when the time comes for their regular meals.
These foods can be replaced with one fruit or nuts such as: almonds, hazelnuts, walnuts or peanuts, cup of sour-milk (yogurt), small tuna sandwich, with cheese or turkey with lettuce and tomato.  Check out my great list of super foods to add to your families diet, they are not only great for pregnant moms but they are beneficial to everyone in the house.
Pizzas, hamburgers and French fries contain too much fat, large proportion of which are saturated and cannot deliver the necessary health benefits and value to the child's nutrition.
What Else You Need to Know About Eating Healthy
Breakfast
Breakfast provides children with the necessary energy and allows them to concentrate better in class.
Examples of a healthy breakfast:
Juice of freshly squeezed fruits, toast with cheese and a glass of milk
Cup of greek yogurt, granola and a fruit
Bread, cheese and some fruit
You can include eggs and ham in the breakfast
Oatmeal
Add Exercise To Your Daily Routine and Include Your Entire Family
Physical activity in children and adolescents promotes the growth and development of bones and the resulting muscle tone contributes to the physical health, mental concentration and is a source of self-esteem and confidence. They spend physical energy which helps control their body weight and it helps make your children feel good.
Your child can practice or play any kind of sport that increases their physical activity. If this cannot be done, let them spend more time outdoors, playing with their peers and friends. They can also be subscribe to dancing groups and schools, ride their bicycle, roller skate, and so many other choices.
Some Other Useful Tips
The food given to children and adolescents should be varied in order to provide them with the required intake of vitamins, minerals, carbohydrates, proteins and fats.
Children need to experience the pleasure of eating, so they should not be left to feed themselves, it's nice for them to have the company of the family or friends.
They should also have a balanced diet and sit at the table at about the same time every day.
There are no best or worst foods, so make sure to ensure that your child have moderate food consumption and a varied diet, which will provide them with a healthy diet and lifestyle.
Try These 4 Healthy Recipes to Cook for Your Family:
Mediterranean Chicken Pizza Recipe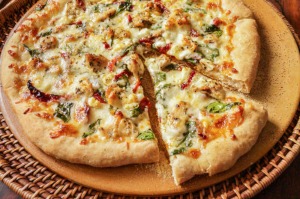 Portion (s): 4
This pizza recipe contains pesto and arugula greens for adding a good portion of extra iron, folic acid and vitamin K in your diet.
INGREDIENTS
Pizza crust made from whole wheat – 12 inch (30 cm)
2/3 t (160 ml) pesto
1 cup (250 ml) arugula
1/2 grilled chicken breast, sliced
2/3 (160 ml) jar roasted red peppers
2/3 (160 ml) black olives
4 mini bocconcini slices
A handful of fresh basil
PREPARATION
Bake the crust in a preheated 450 ° F (230 ° C) oven for 5 minutes.
Add the pesto, arugula, chicken, peppers, olives and the mini bocconcini on top of the pizza crust.
Continue baking for 6-7 minutes in the oven. Then garnish with basil.
Serve with fresh lemonade or soda water with lemon.  You can also add a small salad to this meal.  Remember to add a dressing that is low in fat and calories so that you don't ruin the health benefits of adding veggies to your meal.  You can even top your salad with slivers of almonds and cranberries.
NUTRITIONAL INFORMATION:
PER SERVING:
Calories 550;
Proteins: 23 g,
Magnesium: 26 g (8 g sat.)
Cholesterol: 24mg;
Glucose: 53 g;
Fibers: 4 g;
Fodium: 700 mg.
Veggie Pizza with Spinach and Feta Cheese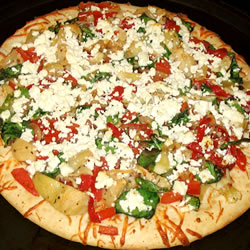 Preparation: 30 min
Cooking time: 15 min
Method of preparation: Oven
You can prepare the pizza in advance, let it cool and cover. It will keep up to 2 days in the refrigerator. Let it come to room temperature and reheat, if desired, in a preheated 450 ° F (230 ° C) oven for about 5 minutes before serving.
INGREDIENTS
5 sundried tomatoes not packed in oil
3  tablespoons (45 ml) olive oil
1 clove of minced garlic
1 lb (500 g) of chilled or frozen pizza dough, (you will have to thaw it for the recipe)
2 cups (500 ml) fresh spinach, trimmed and washed
1 cup (250 mL) sliced ​​mushrooms
3/4 cup (180 mL) crumbled feta cheese
1 1/2 cups (375 mL) shredded mozzarella cheese
2 plum tomatoes, seeded and diced 
PREPARATION
1. In a small bowl, cover the dried tomatoes with boiling water. Let them stay for 10 minutes or until the tomatoes have softened. Drain, reserving 3 tbsp. tablespoon (45 ml) of the soaking liquid. In a food processor or blender, combine the dried tomatoes, the soaking liquid and the oil until the mixture forms a smooth paste. Add garlic and stir. Then leave aside for a while.
2. Meanwhile, on a lightly floured surface with a rolling pin, roll out the pizza dough into a rectangle about 18 x 12 inches (45 cm x 30 cm) (cover the dough and let it stand if it is too elastic to be rolled out). Place the pizza crust on a baking sheet sprinkled with cornmeal. With your fingers, stretch the dough for consistency and form a border of about 1/2 inch (1 cm) thick.
3. Spread the dough with the reserved soaking liquid and add the dried tomatoes on the pizza crust. Top evenly with spinach, mushrooms and feta cheese. Sprinkle with mozzarella cheese and the diced tomatoes. Bake in lower third of a preheated oven at 450 ° F (230 ° C)  for 15 minutes or until the crust is golden and the cheese is melted.
4. At serving time, using a sharp knife, cut the pizza into squares about 2 inches (5 cm) square. Serve warm or at room temperature.
NUTRITIONAL INFO:
Energy: 51 Kcal
Fat: 3 g
Carbohydrates: 5 g
Calories: 51/portion 
Quinoa with Tofu and Vegetables
Portion (s): 4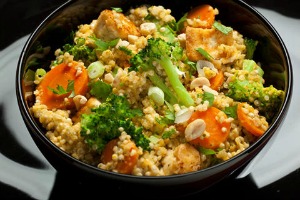 Preparation: 15 min
Cooking time: 30 min
Method of preparation: Cooker
INGREDIENTS
1 3/4 cup (430 ml) water or chicken broth
1 cup (250 mL) quinoa, rinsed and drained
2 tbsp (30 ml) olive oil
2 leeks (white and light green parts only), finely chopped
3 carrots, thinly sliced
2 cloves of garlic, minced
1 tbsp (15 mL) grated fresh ginger
1 1/2 cups (375 ml) firm tofu, cut into small dice (a pack of 225 g)
soy sauce (optional)
chives (optional)
salt and pepper
PREPARATION
1. In a saucepan, bring water to a boil, add salt and quinoa. Reduce heat to medium, cover and cook 15 to 20 minutes or until quinoa is tender and slightly translucent.
2. Meanwhile, in a large skillet, heat oil over medium heat. Add leeks, carrots and garlic. Reduce heat to medium-low, cover and cook 10 to 15 minutes or until vegetables are tender. Add ginger and tofu and cook uncovered for 2 minutes. Add salt and pepper. Add the quinoa and mix well. If desired, you can add soy sauce and garnish with chives.
NUTRITIONAL INFO:
Calories: 300/portion,
Protein: 11 g / portion,
Fat: 11 g (1 g sat.) / portion,
Cholesterol: None
Carbohydrates: 40 g / portion;
Fiber: 5 g / serving,
Sodium: 200 mg / serving .
Carrot Cake with Banana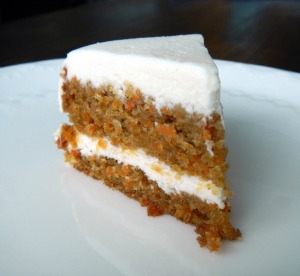 Portion (s): 8
Preparation: 20 min
Cooking time: 50 min
Method of preparation: Oven
INGREDIENTS
FOR THE CAKE
500 ml (2 cups) flour
10 ml (2 tsp.) baking powder
5 ml (1 tsp.) of sodium bicarbonate
(1/2 tsp.) 2 ml nutmeg
10 ml (2 tsp.) cinnamon
1 pinch of salt
180 ml (3/4 cup) brown sugar
80 ml (1/3 cup) coarsely chopped pecans
3 eggs, lightly beaten
80 ml (1/3 cup) raisins
2 ripe bananas, mashed
325 ml (1 1/3 cups) finely grated carrots
Vegetable oil 180 ml (3/4 cup)
FOR THE GLAZE
250 g (1/2 lb.) of cream cheese
325 ml (1 1/3 cup) icing sugar
Juice and zest of one orange
160 ml (2/3 cup) pecans or whole walnuts for decoration
PREPARATION
1. Preheat oven to 180 ° C (350 ° F). Grease and line with waxed paper and shape it into a deep form 20 cm (8 inches) in diameter.
2. Sift flour with baking powder, baking soda, nutmeg, cinnamon and salt; add the brown sugar and the pecans. Add eggs, raisins and bananas, and mix them well. Then add the carrots and the oil while continuing to beat the mixture. Then pour it into the prepared pan, smooth the top and widen slightly in the center. Bake 40-50 minutes or until the cake does not keep a fingerprint. Let it cool in the pan.
3. For the frosting, beat the cheese in a bowl with the icing sugar, lemon rind and 30 ml (2 tbsp.) orange juice, until it gets light and creamy.
4. Unmold the cake and the glaze, then work with the back of a large spoon to give it a nice finish. Garnish with pecans for a finish.
 Guest Post Author's bio: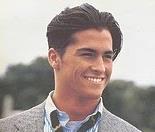 Jessy Donston is a software engineering student, a SEO expert and healthy life enthusiast, which is passionate about educating himself and others on everything and mostly on health. He is always searching and collecting every available information about health, nutrition, diets, fitness, healthy lifestyle and healthy food. Jessy also have very deep interest in science and technology researches and enjoys his role as the administrator and editor of his blog ( you would maybe call him a geek and he wouldn't mind much :)). You may see him sometimes jogging, biking or doing some other sport in his home town Newport, England. As a dedicated and inspired blogger he is constantly trying to help everybody that may need any kind of help and that is actually the reason why he started his blogging adventure with his blog at: www.domehealth.com.
Image credit:
The Eat Well Plate Image Source: motleyhealth.com
Fruits and Veggies Image Source: lifeloveandmusic.net
Mediterranean Chicken Pizza Recipe Image source: www.tarasmulticulturaltable.com
Veggie Pizza with Spinach and Feta Cheese Recipe Image Source: allrecipes.com
Quiona with Tofu and Vegetables Recipe Image Source:  chow.com
Carrot Cake With Banana Recipe Image Source: myfoodaffair.blogspot.com
What recipe would you be interested in trying?
Comments
comments