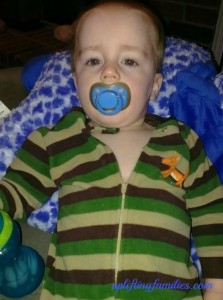 Yesterday I didn't get the opportunity to write a new blog post.  My baby normally goes to daycare during the day because it is hard for me to care for him by myself due to my current medical problems.  Tuesday late afternoon I got the dreaded call from the daycare that my baby boy was running a fever and that he needed to be picked up as soon as possible.  For the past two nights, he has felt the need to wake up and play around 10:30 pm.  Under normal circumstances he usually sleeps through the night, unless he is sick.  So mama stayed up to care for him.  We spent time snuggling together and watching TV so that he could rest.   When he woke up yesterday morning, he was still running a fever so he stayed at home with me.
Disclosure:  This post is for informational purposes only and shouldn't replace appropriate medical care.]
I should have let him sleep in this morning but I choose to go into his bedroom and check on him.  He was a bit warm but he wasn't burning up so I didn't want him to get up unless he was ready.  I thought I could get away with sneaking out of his room in hopes that he would go back to sleep.  Yeah right, he had other plans.  He woke up and snuggled with his daddy before he had to leave for work.  After daddy left, we spent about an hour in bed snuggling and resting.  However, he thought he needed to be a wiggle worm and didn't want to sit still.  So I had to find some quiet activities for us to do so that he wouldn't be too rowdy.
Comments
comments