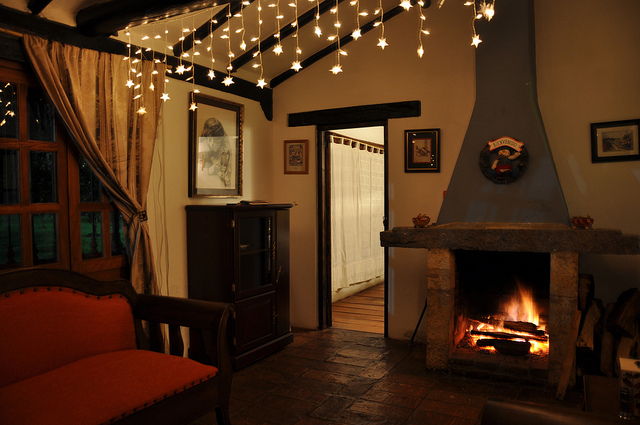 As the temperature falls and the chillier nights draw in, more and more people are heading indoors to keep warm. After all, there's nothing better than being surrounded by home comforts on a chilly winter's day. With the summer months now behind us, there's no better way to embrace the colder seasons than by giving your household a winter makeover. With a little bit of effort and a few decorating tricks up your sleeve, you can transform your interior into a warm and inviting environment that the whole family can enjoy.
Lighting Solutions
Using a variety of lighting solutions can make a huge difference when it comes to creating a welcoming atmosphere. To instill a feeling of intimacy that is perfect for entertaining, try hanging a pendant light above your dining room or kitchen table. To create real warmth, however, you'll need more than just a ceiling light. Try experimenting with a variety of sources to create gentle pools of light, using a combination of spotlights, reading lamps, wall lights and floor lights, such as those provided by The Lighting Superstore. Having an assortment of lights positioned at different levels around a room will create instant cosiness and help to build up a glowing ambience. Dimmer switches are also useful when trying to create a homely atmosphere.
Decorating
When it comes to transforming the look of your home, a few decorating tricks can go a long way. Giving a room a new lick of paint is one of the best ways to create the illusion of warmth. Stay clear of sterile whites and cool hues and use an array of natural warm colours, such as reds, yellows and earth tones. Adding a new set of thick, patterned curtains can also make a room feel warmer and help to fend off drafts(draughts).
Creating a focal point will also help to draw the eye inwards and create the illusion of a smaller, cosier room. If you don't have a fireplace, electrical or gas fires or wood burners are an affordable alternative. You could even try out a feature wall with textured wallpaper to make a unique centerpiece.
Neon signs can be an interesting addition to the wall, grabbing attention and adding a little bit of character to an otherwise bland area. You can get one from the Neon Mama online store, they have an extensive collection.
Furniture
Why not use the transition of the seasons as an excuse to invest in that new plush sofa, cosy armchair or warm wooden table you've always wanted? If you decide to splash out on winter-friendly furnishings, try to choose pieces that can be easily integrated into the decor of the room and will remain practical and stylish all year round. Alternatively, if your budget can't quite stretch to new furniture, why not try adding a selection of hand-knitted cushions or fleece throws to your sofa and chairs for a quick fix. Making your furniture more welcoming with soft textures and layers of fabrics is a great way to bolster the comfort factor.
Layout
The way in which you arrange your furniture can also enhance the aesthetics of a room. Large rooms in particular can feel cold and impersonal if chairs and tables are too spaced out or in formal rows. Try moving pieces around to create cosy nooks and comfort zones, such as reading spots. Placing seats in clusters will also help to provide a sense of intimacy, while tables can be rested diagonally across a corner to soften harsh corners. Dividing large rooms into smaller areas is another great way to achieve a more homely, lived-in feel. If you have a joint kitchen/living space, try to separate the two rooms as much as possible with different materials, lighting and colour schemes.
Attention to Detail
If you're looking for ways to make a room feel less sterile, adding a few simple accessories can help to cosy up a room. Why not try placing a few candles on side tables, cover a hard table surface with a patterned tablecloth or add a fluffy rug to hardwood flooring?
Don't worry about making your house super-tidy or coordinated and instead focus on adding warmth and personality. Surrounding yourself with soft, inviting furnishings is much more important and will help to make the room look more appealing and more like home.
Image Credit: Flickr via Creative Commons