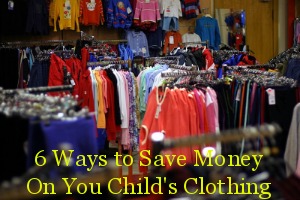 Children's clothing can be rather expensive especially if you are shopping in boutiques or buying brand name clothing. I wanted to share with you some tips and suggestions so that you can learn how to save money on your children's clothing. If you are currently pregnant, I highly suggest that you read this post and don't go too crazy buying to many outfits for your child. They will grow out of them rather quickly and every few weeks it will seem like you are swapping out your baby's clothes for a bigger size.  When I was pregnant with my oldest son, I didn't have any baby clothes for him and I used a combination of these tips to find him enough clothes to wear.
Consignment Shops
Consignment shops are a great place to find high quality second hand clothing for your child. Most shops hand pick clothing that is brought in for resale. Most reputable shops only purchase clothing that is in great shape and still looks brand new. If you are lucky, you can find high quality name brand items for a fraction off the suggested retail price. If you are shopping at a consignment store, there usually isn't very much room for negotiations but you can always ask the manager if you feel the item is overpriced. I highly recommend that you have your child try on the clothes before deciding to purchase any clothing. They usually carry a wide variety of brands of clothing and you have to remember some brands tend to run smaller or bigger. If you decide on purchasing items, make sure that you familiarize yourself with their return policy. If they don't have a policy in writing, make sure that you ask the manager on duty and even have them write the policy on your receipt in case you have any problems after you get home with the clothes.
Online Consignment Shop
Swap.com is an online consignment shop that features infant and children's clothing. You can sell, buy, and swap gently used clothing. The clothing is stored in their warehouse and then it is photographed and inspected by the warehouse before posting it online for sell. You never have to deal with the seller and all items are shipped directly from their warehouse. If you are busy and don't have time to go shopping, you should take a look at their large selection of clothing. Their site is easy to use and I love that you can narrow down your selection by categories including: size, price, condition of clothing, and gender. Each item is clearly labeled so that you know exactly what you are purchasing. The photos of the item are detailed and each item shows what the inspector said about the item. Don't forget you can even sell your child's old gently used clothing, Then you can use the money to buy your child some new outfits. Swap.com charges a small fee ($8.90) to cover the following costs associated with listing your items: shipping and listing the items on the site, professional photographs, and uploads the items to the customer's account. Each customer can price the items and when they sell, the customer will get most of the proceeds from selling their old clothing.
Thrift Shops
Thrift shops are a great place to get articles of clothing for your children at a decent price. I highly suggest that you make a list of the items that you need before heading to a thrift shop. Having a list will help keep you from getting distracted once your are inside of the thrift store, children clothing goes very quickly. Use your list and go straight to those racks before deciding on browsing other sections of the store for other deals. When looking for clothes, keep an open mind and try on things that you think might fit your child. They have a wide variety of brands to choose from and since they have already been worn most of the clothes have already shrunk (which is why a bigger size might actually fit your child). Some thrift stores have additional sales during the week and it is a great way to stretch your budget if you have the time to go shopping during the week. Make sure that you are getting what you are paying for when you purchase clothing from a thrift shop. For example, they have a t-shirt for $2.00 and it is a brand that you recognize from Target. It probably isn't a great deal and you might consider passing up on this piece of clothing. However, if you see a brand name pair of jeans from Gymboree for $4.00, those are a steal and you should buy them. Also, don't be afraid to shop for clothing for next season too.
Comments
comments