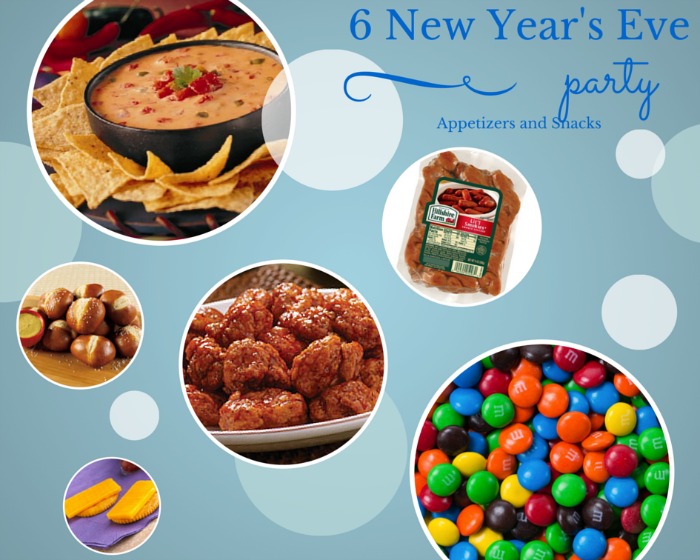 I can't believe that we are just a few days away from New Year's Eve. Every year we always plan a New Year's Eve celebration at our house so that we can spend time with our family and children. This afternoon I went to the store to gather up things that we needed to snack on while we play board games, video games, watch movies, and hang out until the New Year.
Disclosure: I received promotional samples of one of the mentioned products. I didn't receive compensation for this post. Any and all opinions are 100% my own.
Today, I wanted to share with you some our favorite New Year's Eve appetizers and snack ideas.
Super Pretzels
Soft pretzels are a huge hit in our house. I started buying these for a snack for my kids when I found coupons in the newspaper inserts. They are fun to eat either plain, dipped in mustard, or dipped in cheese. A few months ago, I received some of the Bavarian Restaurant style super soft pretzels from Super Pretzel and decided to save them for our New Year's eve celebration since I already planned on making cheese dip.
Chips and Cheese Dip
This is a classic snack for parties and it is something that everyone enjoys. I picked up a bag of chips, Velveta cheese dip, and a can of rotel. Simply cut up the block of cheese into smaller pieces. Put the cheese into a bowl and dump the can of rotel. Microwave the cheese in 30 second increments until it is completely melted. You can also put the cheese/rotel mix into a crock pot too.
Buffalo Wings
This is another one of our favorite snacks and they are easy to serve. Simply place the buffalo wings onto a pan and put them in the oven. Serve them with blue cheese or ranch dressing.
Cheese and Crackers
This is another popular snack that is very easy to prepare. I usually buy Ritz or Club Crackers. Cut up a block of cheese into 1/2 to an inch squares, use the canned cheese, or make a cheese ball. Place the cheese in the middle of the plate and spread the crackers around it.
Little Smokies in BBQ Sauce
I love these and they are an easy appetizer or snack for your party. Pick up a package of little smokies in the meat section and a bottle of your favorite bbq sauce. Place the two items into a crock pot and heat them up. Set out some toothpicks and enjoy.
Candy
We always set out some candy to go along with all of the salty appetizers. Some of our favorites include: M&Ms, Cadbury Christmas Eggs, or Hershey Kisses. I usually put them into a pretty candy dish.
What are you favorite appetizers and snacks to serve on New Year's Eve?
Comments
comments