I have been lucky enough for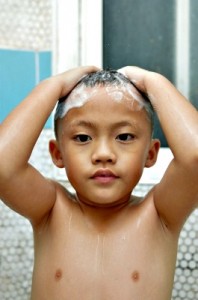 my kids to have their own bathroom since they were babies and I loved adding small touches to make it their own. If you are renting and can't paint the bathroom, don't worry you still can add personal touches to your children's bathroom simply by adding some personal accessories. If you have multiple children, decorating their bathroom can be a daunting task because their tastes differ. You can allow your child to pick our one accessory or theme that suites their individual tastes or you can even pick neutral colors with a few accent pieces.
Today I wanted to share with you some fun ways to decorate your child's bathroom.
Personal hygiene is one of the most important lessons you will teach your child. Turn the time your children spend in the bathroom into a fun and safe learning experience by incorporating these bathroom accessories into your décor.
Personal Grooming Sets
The bathroom is where people begin and end their day, and where your child will learn how to comb their hair, wash, and brush their teeth. Finding a place to keep the necessary tools to keep your child clean can be a challenge, but you can often find a toothbrush holder, soap dispenser, and cup in a matching themed set. From jungle animals to dinosaurs, and even licensed characters, it all depends on where your child's interests lie. These storage items are also available separately and come in and neutral colors.
Spout Cover
Bathing is an important part of personal grooming, but the tub spout can be a dangerous, hard surface your children can bump their head on. A spout cover can help protect your child, as they are made of a durable rubber material that can prevent bumping and bruising. These covers are available in a number of styles, and many of these covers come with temperature gauges, making it easier for you to ensure that the water is just right for your child's sensitive skin.
Comments
comments