Rugs
Incorporating rugs and toilet seat covers into your bathrooms décor help to create a colorful and safe environment for your child. Bathroom surfaces can become very slippery very quickly. Towels can help prevent your young ones from slipping and falling. Try a bright, solid-colored rug that will go with your existing bathroom design.
Trash Can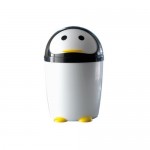 A necessary bathroom accessory, the trash can does not have to be a bland bucket that holds waste. Teaching children about their responsibility to throw away trash is even easier with a themed trash can. Purchase one with a playful or try an animal trash can with a swing cover. For more trash can options, check out the selection of bathroom accessories at The Bath Outlet.
Towels
Another necessity in the bathroom, it is important to have properly sized towels for young children. If the towel is too large, your child could trip and fall unnecessarily. Find towels with fun designs or borders on them that your child will enjoy. For babies and toddlers, look for towels with hoods on them. This adds an element of fun to drying off after a bath, as these towels are often offered in a number of beloved character themes.
Toys
Let the kids have a little fun during their time in the tub. Bath toy options are limitless, and can be anything from water guns to dolls. Your child can even express their artistic ability in the tub with water-friendly paints and markers. Don't worry – these are non-toxic paints and will easily wash off of your tile or tub surface!
Shower Curtain
When it is time for your child to transition from baths to showers, let them help you choose a themed shower curtain. Find one with your child's favorite sports star, superhero, or fairytale princess. The best and easiest way to tie a bathroom theme together is through a shower curtain.
Make your bathroom a fun and exciting place for your child to practice personal hygiene in with these bathroom accessories.
Like these products? Click on the photo for more information.
Have your decorated or added accessories to your child's bathroom to make it fun and inviting for your child?
Comments
comments