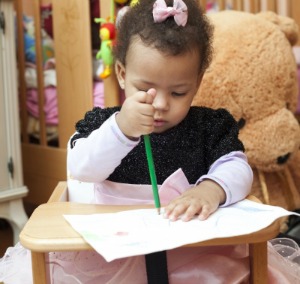 I was a bit disappointed when I started searching online for some ways to teach toddles about important history events and historical information. While I was searching for ideas, I immediately noticed that most of the history lessons were geared towards older children. Don't worry you don't need to let the lack of content available for toddlers to stop you from finding some fun and educational opportunities so that you can teach your toddler a few simple history lessons. In fact, I as I was driving home from church this evening I started brainstorming and came up with some fun ideas that you can use to teach your toddler. Just remember, toddlers enjoy learning but they have a shorter attention span compared to older children. So if you find that your child is bored, you can try another fun activity or move on to another subject or concept. It is important for you to include history into your preschool curriculum, history allows us to teach our child about different cultures and things about the past that have shaped how the World  around them. Plus history is full of important lessons that can be used as learning opportunities. Don't forget about all of your country's past mistakes that have happened a long time ago.  Studying these important history events can help prevent your child's generation from making the same mistakes that were made years ago.
Disclosure: This post may contain affiliate links.
8 Fun Ways to Teach Your Toddler About History
Go to your local library and look for books that talk about another state, culture, country, holiday, or anything else that is history related.
If you have a museum in your area, plan a visit. Most of the science museums have a some local historical information, I live near Fort Worth, Texas and the museum  in the past had some American Indian and Texas history displays. While visiting, you can show your child how the first settlers lived and you can discuss it with them.
Find free online printables of maps. You can teach your child what state they live in while they color.
Make crafts together with your child that go along with the topic that you are teaching your child about.
Take a trip to a historical landmark or state capitol.
Visit restaurants or make food from another country. Get your child help you prepare the meal so that you can talk to them about some of the other country's culture or history. For example, if you are studying information about New Hampshire, have your child help you make the recipe for Hot Apple Cider (see below).
Take your child to a Scarborough Renaissance Fare. I went to the one in Waxahachie, TX a few years ago and I was impressed. People dressed up and there were a ton of the activities for everyone. In fact, they have events such as jousting, maze, dancing, ancient skills demonstrations, sword fighting, petting zoo, and so much more.
Travel around the World using Little Passports. Little Passports is your child's ticket around the world. Simply sign up  and choose your child's subscription plan and choose the duration that you want your child to receive their next mission in the mail. They currently have two subscriptions: World Destinations and USA Destinations. The first month you will receive a cute suitcase that your child will keep all of their destination information and their monthly goodies. This is recommended for older children but you can still tailor it to meet your child's age level. Plus, you can save all the materials and continually use them throughout the years.
Recipe for Hot Apple Cider

What is your favorite idea?
Comments
comments