I participated in an Influencer Activation on behalf of Influence Central for Boys & Girls Club of America. I received a promotional item to thank me for my participation.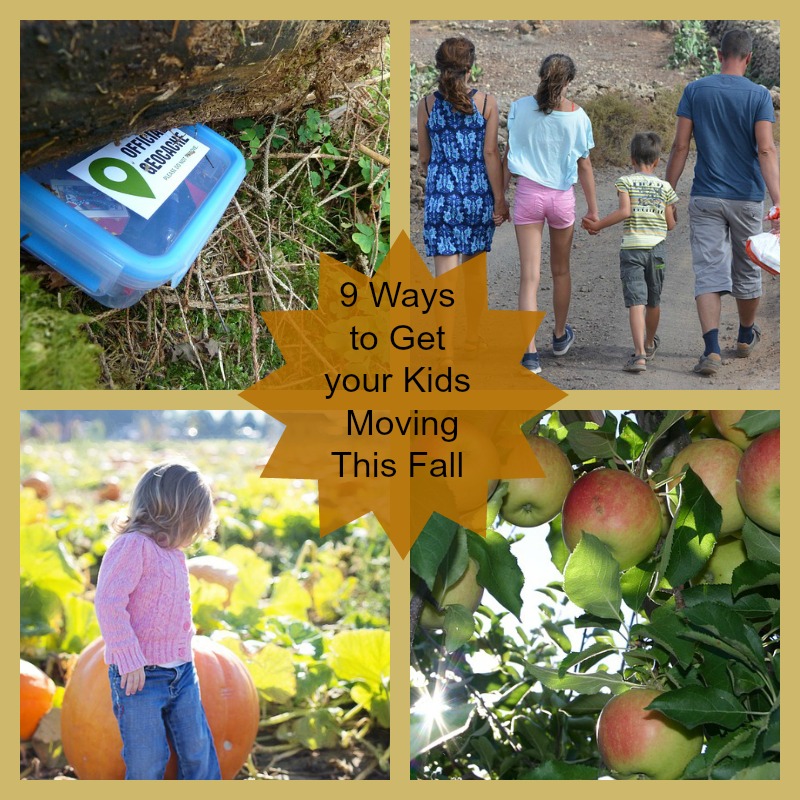 Do you kids spend time playing outside? My kids enjoy it but I am fairly picky when it comes to letting my child outside to play. I like supervising them while they are playing outside unless they are in the backyard. I am guilty of my own kids not getting to play outside enough especially during the summer months when it is way to hot to play outside for long periods of time. Now that it is cooling off outside, now is the perfect time to get your kids outside and spend some quality time with them.
Did you know that nearly 3 out of 10 kids in the United States either overweight or obese it is extremely important to engage kids and teens to be healthy, active to achieve a great future? Children should participate in moderate to vigorous physical activity for at least 60 minutes per day. It is sad that only about one-quarter of youth in the US ages 12-15 are meeting that recommendation. Do your children get enough physical activity?
Have you ever heard of the Boys & Girls club of America? They launched a program called Triple Play which is hosted by the Boys & Girls Clubs of America's to help promote a healthy lifestyles program.  BGCA in conjunction with their partners, including the U.S. Department of Health and Human services, Coco-Cola and Anthem Foundation. Together they are aiming to combat the growing rate of childhood obesity among our nation's youth. Since launching this program in 2005, Triple Play has made close to 10 million connections with kids to share the importance of physical activity and proper nutrition through the program's three components focused on mind, body and soul.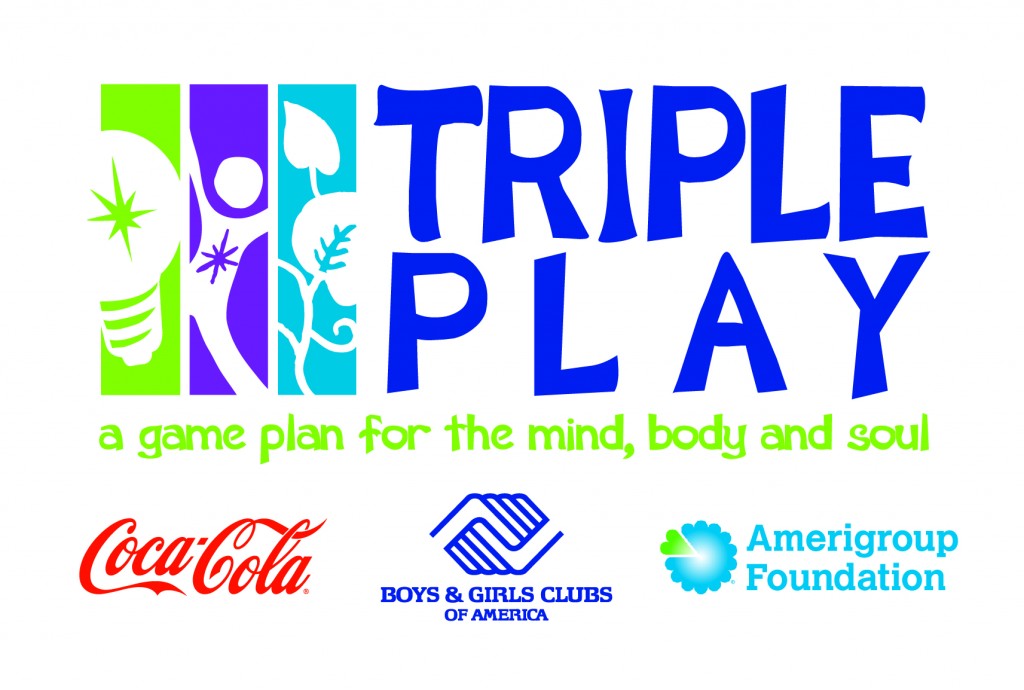 Download the Triple Play Game Plan so that you can help come up with a family plan and get your kids active.
Today, I wanted to share some fun things to do outside with your kids this fall to help promote wellness and get the kids moving.
Geocaching
Geocaching is gaining popularity and it is a fun game that the entire family can play together. It is a real outdoor treasure hunting game using a GPS-enabled device. You have to navigate to specific GPS coordinates and then attempt to find the geocache (container) that has been hidden in this specific location. In order to play you do need to register for a free account at Geocoaching.com. Then visit the hide and seek page to find a location near you. Once you find the item, make sure that you sign the logbook and return the item to the original location so that others can find the geocache too. Never take a geocache from its original location unless you intend on replacing it with a new item of equal or greater value. Beginners should attempt to locate items that are rated with a difficulty of 1.
Hiking
Do you have any hiking trails near your home? This is something that I see other people posting that live near the mountains and it makes me a little bit envious because I don't live near any good hiking trails. If you are lucky enough to live near the mountains or have some fun hiking trails nearby, you should plan a day to get the family out and enjoy a hike in nature. Don't forget to take photos, go fishing, or enjoy a picnic lunch while on your hike.
Head to the Park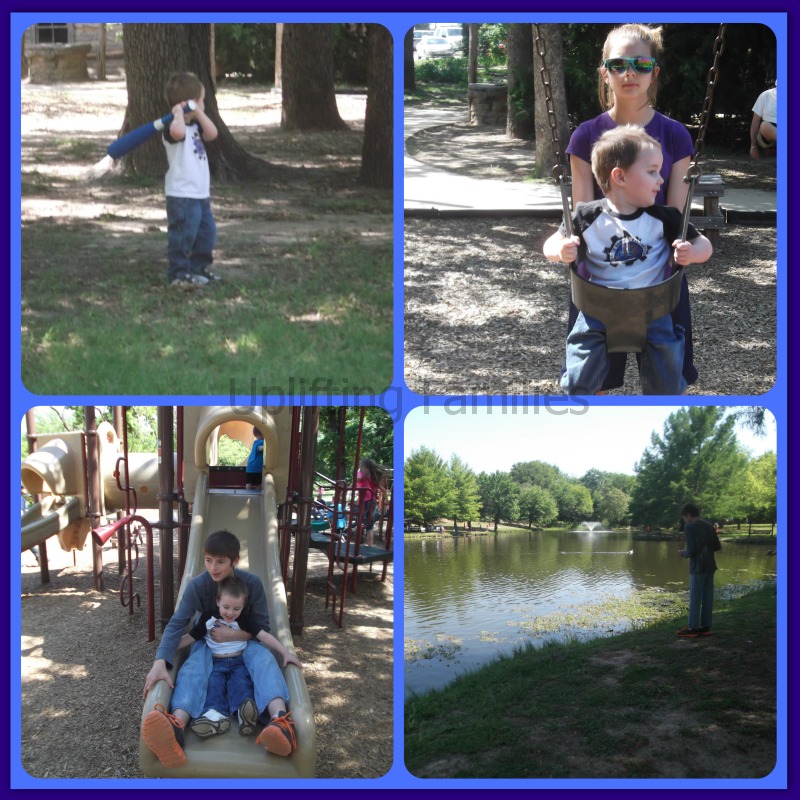 I love taking the kids to the park. They get to get outside and enjoy the fresh air while burning off some energy. Try some of these ideas next time you head to the park. My boy always end up tossing the football every time they go to the park.
Fishing
My boys enjoy going fishing and now is the perfect time to go when it isn't so hot outside. I have planned on taking them again but haven't had the chance yet. Make sure that you check the local laws for fishing before heading out to your favorite spot. Most of the time children don't have to have a license to fish but the laws do vary from place to place.
Pumpkin Patch
Halloween is getting closer and there are a ton of farms that you can visit. I remember when we lived in North Carolina, I lived down the street from a popular farm and in the fall they always had something going on. I decided to take my kids to the festival. We rode on a haunted hay ride and it was awesome. Then once the ride was over with the we got to sample some apple cider. They also had plenty of backdrops for taking photos and you could even pick up pumpkins that were locally grown. It is one of those fun memories that is etched in my mind.
Corn Maze
This is another fun fall event that I would love to take my kids too. Of course, there isn't one any where close to our house. I think the closest one is several hours away.
Apple Picking
I love eating apples but I think it would be so much fun going to pick my own. Do you have an apple farm nearby? Have you ever gone and picked your own apples? Apples are a great snack for the kids too. We don't have an apple farm nearby but if we did I would enjoy going to pick my own apples to eat. Here are some fun apple snacks for the kids too.
Enroll your Child in a Sport Program
The fall is a great time to enroll your child in a fall sports program such as soccer, football, ect. Sports are a great way to get children interested in physical activity. Plus, they get to meet new friends too.
Play Games in the Backyard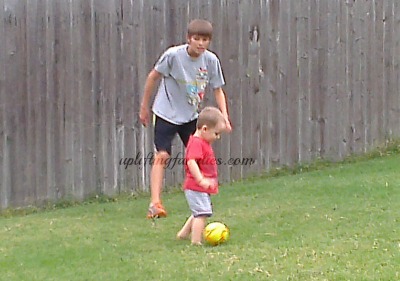 I love it when my boys want to go outside and play. They usually end up running around and playing some sort of game. Try some of these fun backyard games to help encourage your child to get out and exercise.
Don't forget to download your Triple Play Game Plan today! You can also follow the Boys & Girls Club of America on Facebook and Twitter so that you can follow their health and wellness updates.
Have heard of the Boys & Girls Club of America Triple Play Game Plan? Do you plan on using the game plan to get your kids moving and learning about a healthy lifestyle?
If you find this article helpful and useful, please share it with your family and friends. Sharing helps Uplifting Families grow. Thank you for visiting.