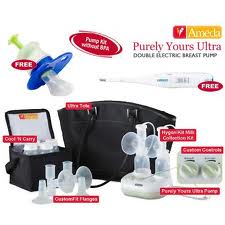 The Ameda Purely Yours Ultra Breast pump is a double electric breast pump that comes in a micro-suede and pebbled faux leather tote bag.  This breast pump offers mothers a convenient way to feed their baby when they are away from home or unable to breastfeed.  The motor for the pump weighs around 1 pound, making it very light weight and easy to carry in the tote bag.  The pump uses an AC adapter, battery power(uses 6AA batteries in the built in battery compartment), and comes with a car adapter(depending on the model).  If not a car adapter can be purchased separately.    Also, it includes a manual pump adapter in case you don't have access to a power outlet or your batteries die during a pumping session.
Like this review? Click on the photo for more information.
Disclosure:  All opinions reflected in this post are my own.  I was not compensated for this post.
Features a Closed System – Protects Milk from Bacteria and Viruses
The dual HygieniKit system collects the milk using a closed system.  A closed system keeps the milk and moisture from backing up into the motor through the tubing; therefore, it keeps your freshly pumped milk free from bacteria or viruses.  This system helps prevent condensation from building up in your tubing while pumping, leaving your tubing maintenance free.
Custom Fit Breast Shields
Ameda Purely Yours comes with custom fit breast shields.  It comes with 3 of the commonly needed breast shields and you can purchase 4 other sizes separately if needed.  It is important to use the correct size of breast pump shield for the greatest comfort and maximum milk flow.  If you need help determining the proper breast shield size, seek the help of a lactation consultant.
Custom Controls for Maximum Benefits
Another great feature on the Ameda Purely Yours breast pump is the custom controls.  You can customize the speed and suction power for maximum milk flow and comfort.  The suction should be set to where it is comfortable and doesn't hurt when you are pumping.  You have over 32 combinations of speeds/suction settings to choose from.
 Worried about Spilling Milk?
If you worried about spilling milk after you have finished pumping, Ameda Purely Yours provides has two built in bottle holders.  The adds convenience in the event you have to stop in the middle of a pumping session to attend to your baby or another need, you can easily place your bottles into the bottle holders.  This will prevent the bottles from tipping over, potentially spilling your milk.  This is a frustration that many mothers have, as pumping milk takes extra time and work, is spilled milk (often called liquid gold).
Warranty Information
The Ameda Purely Yours Ultra Breast Pump comes with a 1 year warranty on the motor.  All other parts have a 90-day limited warranty.  This pump is a single user item and shouldn't be shared with other  mothers or sold.
The Ameda Purely Yours Ultra Breast Pump comes with the following:
Pump
Ultra-Suede and Faux Leather Tote Bag
HygeniKit Milk Collection System
2 Additional Sizes of Breast Shields
Milk Storage Cooler – Holds up to 6 Bottles
3 Ice Packs – Keeps Milk Cool for up to 10 Hours
Manual Pump Adapter
Extra Valves
Nylon Bag for Storing Addition Parts
Pumping Pad for Clean Surface
AC Power Adapter
Silicone Tubing
Having Extra Breast Pump Parts and Accessories Is Helpful for Working Mothers
Many mothers keep extra breast pump parts and accessories on hand, such as valves and breast shields in the correct size.  If  you plan on working, many moms keep two sets of breast shields and extra bottles so that they don't have to wash them after each use.
Like these accessories or replacement parts? Click on the photo for more information.
Originally published on 11/17/2011.