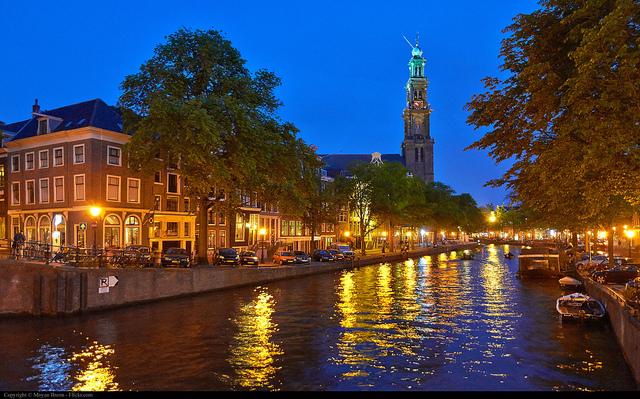 If you want to visit a picturesque city that is easy to navigate your way around whether it is by foot, bike or boat, Amsterdam ticks plenty of boxes.
There is a lot more to Amsterdam than being easy to get around and it offers plenty of fun things to do and see for families who will soon discover that this iconic Dutch location is a genuine city for all ages.
Finding Nemo
There is a great selection of family hotels in Amsterdam and once you have secured a deal on your accommodation, you can start to plan your trips while you are there.
There are a couple of must-see attractions for kids when you visit Amsterdam and one of your first priorities on your list would be to find Nemo. Not the Disney character, but this particular Nemo is Amsterdam's science museum and is bound to be popular with children aged six and over.
This quirky building has a giant sloping roof that is transformed into a beach in the summer months, so that you can enjoy a snack and some amazing panoramic views of Amsterdam. Inside the building, you will find plenty of informative and educational exhibits, allowing the kids to have fun and learn at the same time.
Tropical Museum
The Tropenmuseum started out as a museum of the Dutch colonies before it changed its focus to giving visitors an insight into the daily lives of the people of the tropics and subtropics.
Kids love this tropical museum as it is full of colors and sounds for the young children and lots of interesting facts and objects as well as music and film for the older ones.
Bakfiets
A visit to Amsterdam would not be complete without taking to the streets without taking to the street on one of these unique bicycles.
The Bakfiets are Dutch cargo bikes that can be rented out in various places around the city. Kids think they are great fund to travel around in and Amsterdam is very bike-friendly with numerous designated bike lands so that you can get around as safely as possible.
Vondelpark
Amsterdam's most famous park is called the Vondelpark and it is a beautiful venue where you can find plenty of things to do with the kids.
There is a choice of simply strolling around the park or you might to explore the Vondelpark on your bakfiets. There is also a fun activity going in the summer months where children can cook their own dishes at the Kinderkookcafe while their parents watch on and enjoy a cup of coffee.
Explore the Canals
Amsterdam is an incredible maze of canals and these waterways seem like they were perfectly designed to enjoy a lazy day with your family floating along the water while you take in the sights of the city.
There are plenty of boat tours on offer and you will often be able to find a boat with a knowledgeable guide who will provide some fascinating background information on all of the sights that you are passing by on the water.
Cultural Fun
Amsterdam is definitely a city of culture and this means that you have a diverse range of entertainment options for your children which includes some theatres in the city that put on performances just for children.
You want to visit the Amsterdam Marionette Theatre or the Koos Kneus Puppet Theatre, which puts on puppet shows that are perfect for kids aged 2-8 years of age. After the show, the children get a chance to dress-up in some costumes and get their face painted, so the fun doesn't stop when the puppet show ends.
These are just a few examples of the fun and educational things you can do if you bring your family to Amsterdam.
So get planning your next family adventure by going Dutch and see how many different ways there are to enjoy yourself in this great city.
Kathy Reed is a busy executive assistant. She loves sharing her travel and business insights on the web. Her articles can be found mostly on travel and business sites.
Photo Credit: Flickr
Where would you visit first in Amsterdam if you won an all expense paid trip?
If you find this article helpful and useful, please share it with your family and friends. Sharing helps Uplifting Families grow. Thank you for visiting.
Comments
comments