Friday's are just so absolutely fabulous…Why you may ask…because it is time to enjoy another amazing week of #AskAwayFriday!
What is #AskAwayFriday? Well…#AskAwayFriday was created by the amazing Penny from Real Housewife of Caroline County as a way to connect with other bloggers with a great Q & A session of 10 questions and 10 answers, between two bloggers! By offering a wonderful opportunity to get to know others while allowing others to get to know you and of course there is also the added bonus of making great friends along the way which is one of the best parts of this online world!
Now to welcome our wonderful #AskAwayFriday hosts…
Tamara from Tamara Like Camera, Tiffany from Mrs. Tee Love Life Laughter, Christy from Uplifting Families,
Stacey from This Momma's Ramblings

 

and Amber from Bold Fit Mom
This week we welcome a brand new co-host, for the next two weeks, the amazing…
Suzanna from One Hoolie Mama
!
Suzanna is a new mama to the adorable Baby D and several fur babies, also known as the Hooligans! She is an amateur runner who is madly in love with her hubby and chocolate, as well as enjoying a glass of wine or two. Some of her other loves include photography and DIY projects. Be sure to stop by and show her a little love!
So…grab our button, follow our amazing hosts and co-host, hop through the great link ups and make some amazing new friends!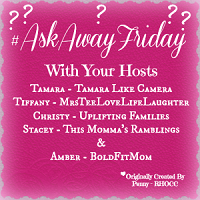 This week I didn't have a partner and I asked the #ASKAWAYFriday community to help me come up with some questions so that I could participate. I loved all of their questions and I hope that you enjoy my answers. If you are new to my site, I added #ASKAWAYFriday so that my readers could get the opportunity to get to know me so hang around and make yourself at home. I have a ton of pregnancy, breastfeeding, and
parenting
articles on my site for you to enjoy.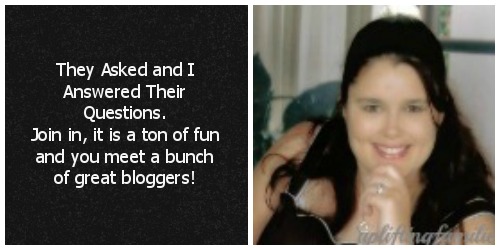 From Tia: What is your favorite season of the year and why?
After this last winter, I think that I would much rather have warmer temperatures. I am a fan of weather that is in the 70s or 80s, its not too hot nor too cold. I live in Texas summer time is hot, so far knock on wood we haven't seen high temperatures in the 100's yet but it is pretty muggy outside since we finally got some rain.
From Rabia: Subway or Quiznos? Dominos or Pizza Hut? Chipotle or Q'doba? McDonald's or Burger King?
Rabia these are some tough, tough choices.
Quiznos or Subway – I never ate at Quiznos until a few years ago and I think their food tastes so much better. I love their veggie bar too. I can add as many pickles and banana peppers as I want without asking the sandwich artist for more. I usually end up eating Subway more because most of the Quiznos have shut down around here.
Dominos or Pizza Hut – I actually prefer eating Papa John's, Mr. Jim's, Cici's, Dominos, in that order. I haven't had Pizza Hut pizza in a very long time. When we get pizza we usually get Mr. Jim's or Dominos because they are close to the house and it just depends on what kind of pizza we want.
Chipotle or Q'doba – I will have to say Chipotle because I have never had Q'doba. I have only eat at chipotle once or twice and it was very good. I like that I can order food without the tortilla and customize it to my taste. 😉
McDonalds' or Burger King – I prefer McDonald because they have a wide variety of options for the entire family. They only have a handful of Burger King's around and there aren't any close to our house. I do love their onion rings and sauce.
From Stacey: Have you ever been to a live concert? Who did you see, if so?
The very first concert that I got to go to was Lonestar. I won two tickets and I took my friend with me to see the concert. It was outside but it was an awesome event. I have also seen Casting Crowns, Skillet, Mercy Me, Jeff Johnson, Leeland, Tenth Avenue North, Jason Gray, and Todd Agnew in concert.
From Stacey: Is there a concert that you would like to go see?
I would love to see a bunch of Christian Artists in concert. I tried to get tickets to Newsboys a few weeks ago with the youth group but they sold out quickly.
Comments
comments
Pages: 1 2