It has been two weeks since I participated in #ASKAWAYFriday because of the holidays.  I love connecting with new bloggers and learning more about them.  I decided to participate because I don't always share a ton of information about myself and thought it was a great way for everyone to get to know me on a personal basis.  For those who don't know what #ASKAWAYFriday is, you exchange a set of 10 questions for another blogger to answer. Below are 10 questions that Jodi asked me and I hope that you enjoy my answers.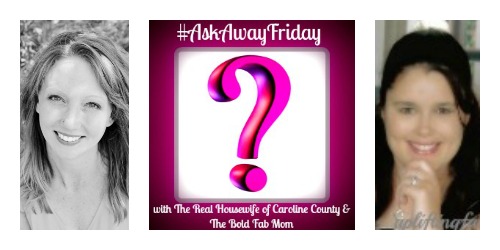 Jodi is a wife and a mother of two amazing boys.  I enjoyed connecting with Jodi this week and admire her for having two kids that are very close in age.  Mine are spaced out and I don't know how she cares for two that are about a year apart.  You can find information about IVF, Preschool, Terrible Twos, and so much more on her blog: The Noise of Boys.
I know you began blogging in 2012, after your back injury….How did you discover the world of blogging?  Did you jump right into it or take some time?
I actually started a piano site in 2009 and tried writing articles for that site.  I wasn't very successful at it because I am not musically talented and it was difficult to write about topics that I didn't have a clue about.  In 2011, after the birth of my youngest son my husband suggested that I try another blog.  So I started a breast pump review site because I wanted to help educate women that they could continue to breastfeed their baby once they returned to work.  I wrote several reviews and started working on this site shortly after I was sent home from my job on medical leave while I was searching for another job with my employer.  I was eventually laid off because my employer felt that my medical restrictions were too strict and they felt that I was a liability risk (to future injuries on the job).  Around the September 2012, I felt that I felt like it was time to expand my niche so that I could blog about a wider variety of topics.  So the long answer to your question, I learned about blogging from my husband.  He did it in his spare time as a hobby and he was able to earn some extra money.  I wasn't the best writer when I started but I just jumped in and started it.  Over the years, my writing has improved and I am still learning new ways to share my blog with others.  My advice to newbies is to jump in and give it a try, there are many free ways to start a blog so that  you can test the waters.
Your blog is awesome filled with amazing  content! What would be your top 3 tips for a beginner, in regards to starting a blog?
Find a niche or several niches that you are comfortable writing about.
Brainstorm and come up with a list of possible domain names (Brand Name).  You want something catchy and easy for people to remember.
I highly recommend that you read "[amazon_link id="1493545701″ target="_blank" rel="nofollow" ]The Blogger's Survival Guide: Tips and Tricks for Parent Bloggers, Wordsmiths, and Enthusiasts[/amazon_link]".  I read this book after I stared blogging and it is very helpful.  It will help you set up your blog and give you step by step instructions to get you started.
Share one thing you thought you would do as parent, but changed after actually having kids?
I wasn't a fan of being grounded when I was a teenager and I am pretty sure that I told my mom that I wouldn't do that with my own children.  However, as a mom I found that taking away privileges or things that they like actually gets their attention.  Time out works fairly well for my youngest son too.  Of course, I am not opposed to giving my child a spanking if they need one.
Did you make any resolutions for 2014?
I didn't make any New Year's Resolutions because I am typically not a huge fan of making promises to myself that I don't keep.  I would much rather set small attainable goals for myself.
Continue Reading: My Answers to Jodi's Questions.
Comments
comments
Pages: 1 2