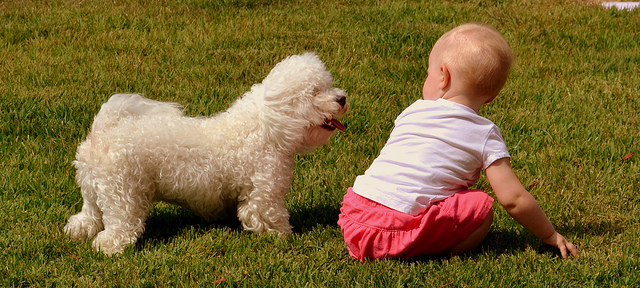 The quote by the writer and the columnist Gene Hill "whoever said you can't buy happiness forgot little puppies" testifies to the special bond that develops between people and dogs. Being a dog lover yourself, you would certainly want to instill love for these lovable pets in your children. In order to ensure a harmonious relationship between your child and a dog, we prepared for you the basics you will need to know.
Being knowledgeable on this subject is of major importance. Raising your baby and having a dog at the same time is not the easiest thing in the world. Fortunately, there are so many books on this subject which will help you and which you will certainly enjoy reading. Some of them are: "Kids and Dogs: A Professional's Guide to Helping Families" and "Living with Kids and Dogs…Without Losing Your Mind" by Colleen Pelar.
Dog Breeds Recommended for Children
Dog breeds are the second thing you need to pay attention to since not all dog breeds are recommended for children. The two dog breeds which are known for their friendliness and calm nature are golden retriever and Labrador retriever. Since you will need to train them as well, those breeds are easy to train. Specifically, Labrador are known for its obedience which make them perfect dogs for you children to train. On the other hand, you should avoid Chihuahuas and Pekingese dogs. Pekingese dogs bark a lot and they are pretty stubborn and Chihuahuas are simply too small for young children to handle them. There is possibility children might injure them.
Introducing a Dog to a Baby
One of the most crucial steps in fostering a strong bond between a dog and a child is introducing a dog to a newborn baby. Before actually doing this, you need to make sure that your dog is properly trained. The dog should be on the leash all the time during the contact. After few minutes, give the dog a treat. It is of utmost importance to be calm in order for your dog to be calm as well.
As it has been previously mentioned, it is crucial to teach your dog some basic things such as to sit and to lie down. You can find many tips and techniques online how to train your dog or you can hire a professional trainer. Additionally, children should know the basic rules when being around the dog. It is essential that children know how to pet the dog gently and that they should not approach it while the dog is eating. The bottom line is to always be around when your child is playing with the dog.
Health Issues
In order to make sure that the relationship develops smoothly, parents should be aware of health issues which might arise. Make sure your dog is vaccinated and bear in mind fleas, allergies, infections which can be passed from dogs to people.
It goes without saying that your house needs to be extremely clean especially if you have a baby or a little child. Be prepared for dog hairs. Vacuum and mop on daily basis, especially if you have a double coated dog breed. When it comes to floor rugs, use a vacuum cleaner with good suction. Your child would want to play on the floor so be extra careful. The recommendation is to buy play mats for your child.
It is a clever idea to [amazon_link id="B003TUNVXG" target="_blank" rel="nofollow" ]buy a bed for your dog[/amazon_link] and train them to sleep there. If you have a baby or a toddler, it is not a bad idea to have the outer room for feeding your dog. Ensure that you have a mat under its bowl for eating. In addition, it is recommended to cover your furniture. It is the easiest way to clean your furniture if it has smooth surface such as leather. Remove surface bacteria by sanitizing on regular basis. Even though there is always an extra work while cleaning your house, it is not impossible to keep it clean.
To cut long story short, it is highly important to know the basics relating to the interaction between a dog and a child. Be prepared in advance, teach your child a proper behavior around a dog and train your dog, too. With little effort on parents' part, children can develop a strong bond with their dogs showing them affection and love they surely deserve.
Photo Credit: Flickr via Creative Commons
How did you introduce your pet to your child for the very first time?
If you find this article helpful and useful, please share it with your family and friends. Sharing helps Uplifting Families grow. Thank you for visiting.
Comments
comments