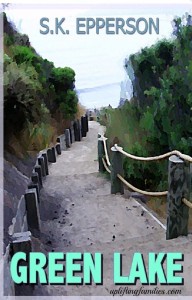 Are you looking for a great book to read?  Do you like being drawn into a good book that you can't put down?  Then I highly recommend that you read "Green Lake" by S.K. Epperson.  This book touches on almost every subject that many people have a difficult time understanding or relating to.  These topics include: divorce, alcohol abuse, murders, homicides, racism, suicide, pedophiles, attraction to dead corpses and sexual urges with the corpses, arson, abusive relationships, sexual assault, revenge, arson, adultery, stereotyping, and romance.    These are all real possible subjects and the author does a great job intertwining them into the story line.
Madeline finds herself at the tail end of a relationship with Sam, her husband, that ends disastrous when he gets laid off from his current job.  After draining all of the couples accounts and leaving them deeply in debt, Sam decides to end his life by committing suicide when he can't find another job.  After the funeral, Madeline finds herself unable to return to the couples home.  She immediately puts the couples house up for sale in attempt to get out of debt and to pay for her husband's funeral arrangements.  With no where to go, Jacqueline, her sister, invites her to come stay at her house.
Like this review? Click on the photo for more information.
Disclosure:  I didn't receive any compensation for this book review and the opinions reflected in this post are my own.  Your opinions of the book may differ from my own.  This book is rated for mature audiences only because it contains graphic material that isn't suited for younger eyes to read.
Madeline agrees to stay with Jacqueline and her husband.  However, Madeline quickly feels as if she is the third wheel and needs to find another place to stay.  She decided to quit her job over the summer so that she can beg for colleges to give her a grant.  She wants to be able to work on some anthropologist research and submit it to the college.  Jacqueline and her husband decide to allow Madeline stay at their newly purchased cabin so that she can have her own space so that she can live her own life without constantly having to feel like a third wheel.  They only use the cabin on the weekend and will frequently go to the cabin to visit Madeline on the weekends.
Comments
comments