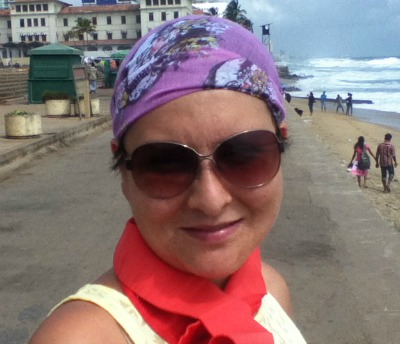 Rebecca Beaudoin, a young Native-Canadian mother from southwestern Ontario, is participating in the Shoppers Drug Mart Weekend to End Women's Cancers in Toronto for her second time this year as a cancer survivor. When Rebecca first saw thousands of people participating in The Weekend in 2011, she was 31-years-old and sick in bed,finishing chemotherapy treatment, recovering from surgery and starting radiation. With both a 12-year-old and a two-year-old daughter at the time of her breast cancer diagnosis, Rebecca said she never thought she would be well enough to see her daughters grow up. Breast cancer has had a huge impact on her family, especially for Rebecca's youngest daughter, who is now six, as she has seen the disease's effects for majority of her life. In 2013, Rebecca walked to end women's cancers for her first time with her husband and family supporting her journey. In training for The Weekend, Rebecca walks with her daughters, her mother or her husband. The survivor says she knows we are closer to having fewer mothers forced to explain to their children the reasons for hair falling out and closer to preventing a mother from wondering if she will get a chance to see her children become adults.
Rebecca says through fundraising efforts, we are closer to finding a cure for cancer in our lifetime. The annual Weekend, a 60KM walk throughout Toronto's culturally diverse neighbourhoods, benefits The Campbell Family Research Institute at The Princess Margaret Cancer Centre. The Weekend to End Women's Cancers is the largest fundraiser of its kind in Ontario history and has raised over $141 million since its inception 12 years ago. This money has funded innovative research, treatment and care forwomen's cancers at The Princess Margaret.
Interview with Rebecca Beaudoin
Breast Cancer is very scary and can be a life changing event. My own mother in law was diagnosed with breast cancer earlier this year  and when I was approached to help share Rebecca's Story, I wanted to interview her so that I could share with you how a disease, such as cancer, can change your family in the matter of minutes. I would like to thank Rebecca for taking the time out of her busy schedule to answer a few questions for my blog.
1. How did you find the lump in your breast? Did you do regular exams like health professionals recommend?
I found the lump myself. I was in the shower and noticed something high up on my chest that didn't feel quite right. I immediately felt my heart drop. I quickly researched breast cancer and I knew in my heart that it was bad. I went to see a doctor at a walk in clinic because I did not have a family physician. From there, I was sent for an ultrasound. The ultrasound tech told me, "Don't worry, there is nothing there." I was not so sure. A week later, I went back to check in with the doctor as it had been recommended. The doctor told me that the ultrasound was clear and it was all good. Then, he examined me. His faced dropped and he left quickly before returning, when I was then referred to a surgeon and sent for a mammogram. After two images were taken, the technician left and came back to tell me I was being sent for an ultrasound and that the mammogram would continue once the ultrasound was done. I was worried and trying very hard to remain calm. A few days later, I was referred to the local breast centre to meet with a surgeon and have a core biopsy done. My surgeon put a rush on the results. I cried at every stop light on the way home. A few days later, the doctor's office called and, once again, my heart sunk. I knew when I picked up the phone that it was bad. I did not do regular monthly breast self exams, but I did do random self exams throughout the year. Mostly when I thought about it or when I remebered. I now do regular monthly breast self exams, along with the check-up I have with my medical oncologist and the annual mammogram I have scheduled every March.
2. If a mom just found out that she has breast cancer, do you have any tips to share with her on how to overcome cancer?
The biggest tip would be to "take the help." So many people offered to help my family and we never took them up on it because it seemed more like a few kind words. Yet, money was tight with only one income and dealing with kids was even harder. I always felt so bad that I wasn't able to do fun things with my kids as a result of feeling ill. Going out was such a chore because I didn't feel well. When I did go, I usually regretted going anywhere. My husband's co-workers would make a meal at least once a week, which helped us out a lot. We had offers for childcare, grocery shopping and house cleaning but we never accepted them. If I could go back, I would take people up on all of those offers because sometimes that is the only way people feel they can help. Not having to worry about the little things can help you focus on the big picture, which is your fight against breast cancer.
Comments
comments