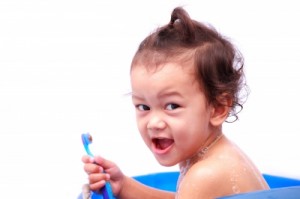 Taking care of your child's teeth is very important and many parents don't realize that you should begin taking care of them before they come in. When my son was an infant and we were at the doctor's office for a well check, his doctor informed us that we should begin wiping my son's gums with a wash cloth and water.  Wiping down his mouth and gums with a wash cloth will get him used to getting his teeth cleaned before he is ever introduced to a toothbrush.  I was a bad mommy and this wasn't something that I did on a regular basis since his last feeding of the day was pretty late at night.  However, it is important to try to implement this into a daily routine so that you can get your child used to brushing their teeth each night.
Disclosure:  The opinions reflected in this post are my own and may differ from your own opinions.
How to Brush Your Infant's Gums and Teeth?
Once the teeth begin coming in, it is important to begin brushing their teeth using a toothbrush.   Most babies teeth begin to emerge around 6 months old, of course, some come in sooner while other babies have them come in later.    Your young baby doesn't need to use toothpaste because swallowing too much toothpaste can be harmful for your baby.  Instead, add water to your child's toothbrush and gently brush his or her teeth.  Also, brush your child's tongue if they will let you.
Comments
comments