Are you looking for some ideas to make bath time more enjoyable and fun for your child?  Most children enjoy playing and splashing in the bathtub.  Bath time is also a great way to introduce your child to water so that they aren't fearful of water especially if you plan on taking the swimming during the summer months.  Adding bath tub toys to your nightly bath time routine can make bath time more enjoyable for both you and your child.  Check out these great bath time gift ideas for your baby or toddler.
Disclosure:  I did not receive compensation for this post and all opinions are 100% my own.  This post contains affiliate links and I do receive a small commission from any items that you purchase.
Float and Squirt Bath Tub Pals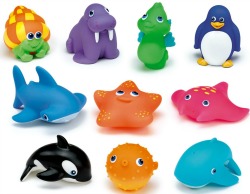 These are one of my son's favorite toys for the bathtub.  They come in a wide variety of colors and texture.  To fill them up with water your child will have to dunk them under water and gently squeeze them.  Once the toys are full of water, they can squeeze them to squirt water out.  They can be used for the bathtub or swimming pool.  These toys are the perfect size for your baby's hands and it is a great way to introduce new vocabulary words to your child.  If you don't want your child to be able to fill them up with water, you can add a dab of hot glue or super glue over the hole so that they don't grow mold.
Bathtub Cups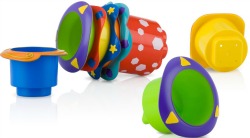 Babies often enjoy learning how to scoop up water and pour it out.  If you have multiple cups, your child can learn how to transfer water between the cups for double the fun.  The cups don't have to be fancy for your child to enjoy them.  Find cups that are perfect for your child's little hands so that they can easily grasp them.  Some of the fancy bathtub cups have holes in them so that your child can transfer water.  These bathtub cups can help your child learn how the different sizes and number of holes in the cups can make the water flow slower or faster.  Toys make learning new concepts fun and interesting.
Bath Time Letters or Numbers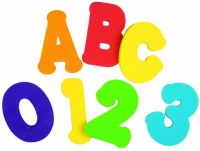 Foam letters and number can turn bath time into a fun and educational experience for your child.  The foam is light weight and easy for small hands to grasp.  They stick to the side of the bathtub or tile so that you and your child can have fun creating words or math problems.  They are recommended for children who are 3 years and up.  Children younger than three years old shouldn't play with the foam letters and number due to potential chocking hazard if they put them in their mouth or bite through them.
Comments
comments