Scoop and Pour Bath Tub Toys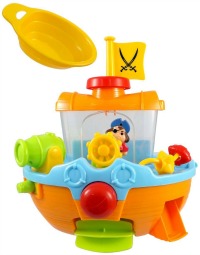 There a several different types of scoop and pour toys to choose from.  You can find toys that allow you to scoop up smaller toys that are floating in the bathtub using a larger toy.  This teaches your child how to figure out how to scoop up toys without using their hands to help guide the smaller toys.  Once your child has scooped up the smaller toys, they can pour them out and start again.  Other toys you simply scoop the toy under the water so that it fills up with water and then your child can pour the water out.  Teaching your child how to scoop and pour during bath time helps them develop their hand eye coordination and motor skills.
Bath Faucet Cover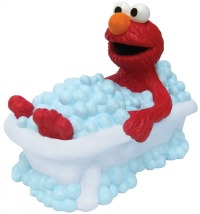 Have you ever worried about your child bumping into the bathtub faucet and hurting themselves?  A faucet cover goes over your existing faucet to protect your child.  They come in a wide variety of designs.  Some of the spout covers come with bubble dispensers so that your baby or toddler can enjoy a bubble bath.  When choosing a faucet cover, double check to make sure that it is compatible with your faucet.  A few of them won't work if you have a shower diverter.  I need to buy one of these for my toddler, I am always worried about him bumping his head on the faucet.
Bathtub Toy Organizer
Once your baby is done playing with the bath tub toys, you need something to keep them in to prevent them from growing mold, staying wet, and out of your way so that you can use the bathtub too.  I know that our bathtub toys generally sit on the side of the bathtub and they take up precious room that I could use for shampoo, conditioner, body wash, or even candles for a nice bubble bath.  There are a few different options that you can get for your bathtub and keep those toys from taking up value space around the bathtub.  They easily attach to tile or fiberglass using suction cups.  If you don't have tile or fiberglass around your bathtub, you can also get a caddy that goes across your bathtub unless you have a garden or over-sizedbat bathtub.  If not you can check out this idea on Pinterest:  DIY Bathtub Toy Holder.
Bath time should be enjoyable for both you and your baby.  You don't want your baby to be fearful of water and bath time is a great way to introduce water activities to your child.  I hope that these gift ideas are helpful and make bath time fun for your baby.
What is your child's favorite bath tub activity?
Comments
comments