Infant Jumper or Activity Center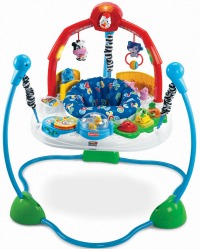 This was one of my favorite items that I had for my son when he was younger, he loved spending time playing in his jumper.  Most jumpers or activity centers have several activities including music, lights, and toy stations to keep your baby entertained while developing your baby's motor skills.  It is also a great way for your baby to get some physical activity to help them develop their neck, back, and leg muscles while they are busy playing.  The activities centers are designed to grow with your baby and most have adjustable height settings it will grow with your baby.  The springs are covered with fabric to keep your babies fingers safe.  Your baby can rotate 360 degrees while they are bouncing and playing.  The jumper or activity center requires some assembly and if the one you select has music, lights, and sounds you will need batteries (not included unless specified on the box)
Crawl and Go Toys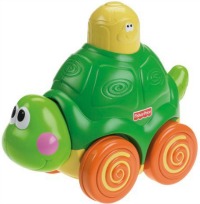 Once your baby begins crawling, you will probably have a harder time keeping your baby entertained because they are able to move and go where they want too.  The crawl and go toys are a great way to help keep your baby entertained and reward them for doing physical activity.  These toys also teach your baby about cause and effect.  Your baby will enjoy learning how to make the toys move by pressing a button.  I love toys that are entertaining and help develop your baby's motor skills.  Depending on the toy you select, you might need to purchase batteries separately.  This toy is great for infants 6 to 18 months old.
Lovey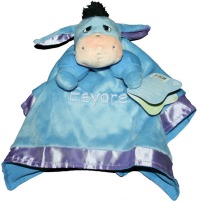 Most babies are often attached to a security blanket or stuffed animal someone had a bright idea and combined the two ideas.  A lovey is a small blanket that has a stuffed animal attached to it.  They come in a wide variety of colors, animal choices, and even Disney characters.  I received one of these at my baby shower and my son has been fairly attached to it since he was little.  He loves snuggling with it and took it with him to daycare.  I loved that I was able to toss it in the washing machine when it needed cleaning.  Lovey's are a great gift idea for newborns or older.  Most children often use the lovey's as a security object and carry it around with them every where they go.  If your child does get attached to a lovey, don't worry they won't carry it around with them to high school.
Cloth Books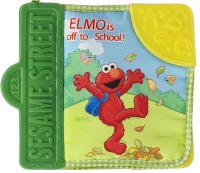 It is never too early to start reading books to your baby.  Of course, your baby will probably enjoy eating it as well.  Cloth books make a great first book for your baby.  They are often filled with bright colors and crinkle pages.  These books are great for small hands and are drool friendly.  As your baby gets older, you can also add board books to your collection.  If you start reading stories to your baby, keep it short and sweet.  Babies are easily distracted and it is hard to keep their attention for long periods of time.  Reading books at an early age helps promote early literacy skills and helps your child begin recognizing different sounds and patterns.
Press N Play Pal Plush Animal Toys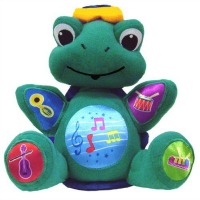 These plush stuffed animal toys offer a variety of educational learning activities to keep your baby entertained.  Your baby can push the stuffed animals hands, feet, and tummy to activate lights, sound, or music depending on the animal you choose.  This is another great toy that teaches your baby about cause and effect.  When they push the button they will activate lights, sound, or music. It has an on/off switch so that the animal can be stored in the toy box without running down the batteries.  This toy is recommended for babies 3 months and older.  The animals are light weight enough for young babies to hold or carry around.
Ride and Push Toys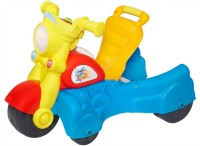 As a mom, I love finding toys that have multiple purposes.  The ride and push toys are great for older infants who are learning how to walk.  They can use the toy to help them balance when they are starting to walk.  It will help keep them upright and they are able to push the toy as they move.  If they get tired, they can sit on the toy and push the toy with their feet to move around the house.  If you purchase this toy and have stairs in your home, make sure that you use a baby gate in front of the stairs to prevent your baby from accidentally falling down the stairs.  The push and ride toys help promote exercise and help your toddler develop the muscles in their legs.  This toy is perfect for babies 9 months and older.
As a mom, I know how important it is to choose toys that are both fun and educational.  I created this list of toys to try and take the guess work out of finding the perfect gift for your infant.
Comments
comments