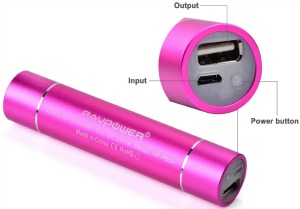 As a mom, I constantly rely on my cell phone to stay in connected with my older children especially when they stay at home alone, with their friends, or while they are participating in their own activities alone.  While out in about, I am always worried that my battery on my cell phone will die leaving my children without a way to be able to reach me in case of an emergency or to let me know that I need to pick them up.  If I am at the store or running errands, often times I am unable to charge my phone or there isn't enough time to fully charge my phone in between errands using the car charger.   What if you could instantly charge your cell phone while on the go with an accessory that can easily fit inside of your purse or pocket?  Guess what!  You can actually charge your phone with a device that is small enough to put in your pocket.
Like this review? Click on the photo for more information.
Disclosure:  I received this item in exchange for a review.  All opinions are 100% my own and I would never recommend an item to my readers that I didn't enjoy.
[amazon_link id="B00DXYKCOE" target="_blank" rel="nofollow" ]The RAVPower Luster Mini 3000mAh Lipstick Charger[/amazon_link] can easily extend the life of your battery on your cell phone, smart phone, or tablet.  It is small enough to easily fit in your pocket, purse, laptop bag, or even a diaper bag.  You can charge any type of device that uses a standard USB cable to MicroUSB cable or you can use your own iPhone cable.  This device is perfect for busy moms or dads on the go, people who travel frequently, or for teenagers who are constantly draining the battery on their cell phone.  If the device is fully charged, it will easily add around 6 to 8 hours (talk time) to your cell phone.