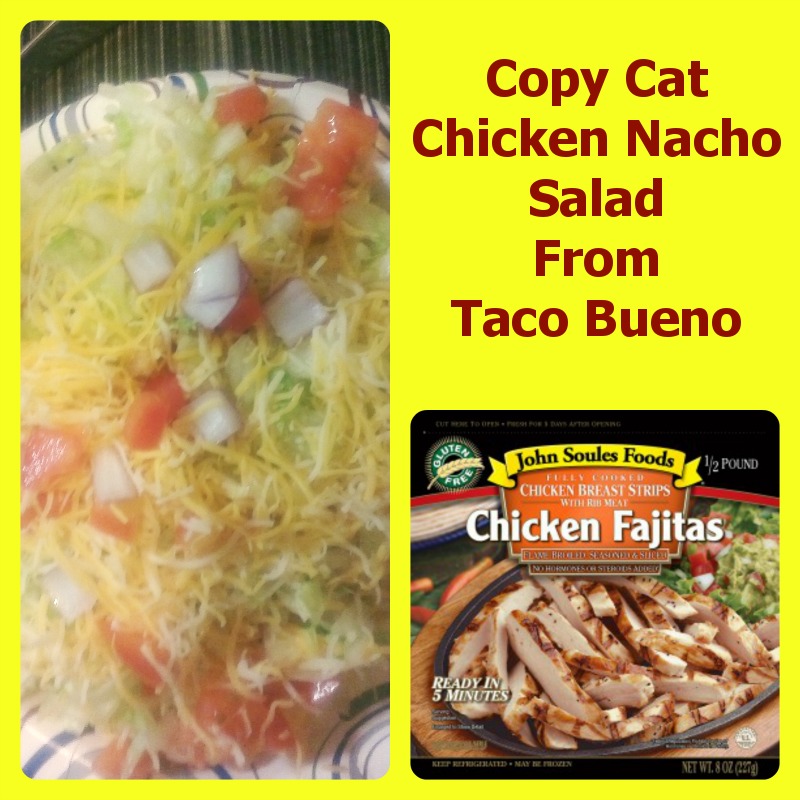 Are you looking for an easy meal idea that your kids will enjoy? Today I wanted to share with you an easy recipe that I came up with a few weeks ago that mimics one of my favorite meals from Taco Bueno. The Chicken Nacho Salad at Taco Bueno is one of my favorite items on their menu. As a family of 5, eating out is expensive, even fast food, plus eating out  all the time is unhealthy. Making your own nacho salad will allow you to pick and choose the best option for your family because you can buy your own fresh ingredients from the store. Plus, you can be choosy and pick up organic or lower fat options.
Ingredients Needed:
1 lb of Chicken Fajita Meat – I Use the Precooked John Soul Chicken Fajita
1 Bag of Shredded Lettuce
1 Large Tomato
1 Large Onion
2 Can of Nacho Cheese
1 Can of Chili (No Beans)
Bag of Tortilla Chips
1 Bag of Shredded Cheese
Fajita Seasoning
Hot Sauce, Jalapenos, Guacamole, as Desired
Directions
Heat chicken in a skillet and add a small amount of fajita seasoning.
Warm on nacho cheese in a separate pot. Stir it often so that it doesn't burn.
Warm chili in another pan and stir it often so that it doesn't burn. You can omit this step if you don't want chili on your salad.
Chop up large onion and tomato.
Grab a handful of chips and put them on a plate.
Pour the nacho cheese and chili over the chips.
Add lettuce, tomatoes, onion, shredded cheese and any other condiments that you enjoy.
Dig in and enjoy your nacho salad.
Yesterday, I only used one can of cheese and I quickly realized that it wasn't enough. I got 5 servings from this recipe. If I had two cans of cheese, I could have easily stretched the chicken a bit further.
I hope that you enjoy this recipe. If your child is a picky eater, these nachos are a great way to sneak in a few vegetables.
Will you try this recipe?
If you find this article helpful and useful, please share it with your family and friends. Sharing helps Uplifting Families grow. Thank you for visiting.
Comments
comments